Catalogs

>

RS485-1-A
Catalog excerpts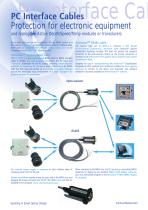 PC Interface Cables Protection for electronic equipment and reprogram Active Depth/Speed/Temp modules or transducers For an easy, safe and low-cost connection from an NMEA system to a PC / laptop, ActisenseTM provides two variants of its PC Interface cable. Both allow a standard RS232/RS485 9-pin serial port to be connected to any NMEA 0183 marine bus link. ActisenseTM opto-isolator cable The PC-OPTO-1-A is a bi-directional NMEA 0183 to RS232 interface cable. It utilises full opto-isolation to protect the PC input and "tranzorb" protection for the PC output, providing comprehensive isolation of expensive PC hardware when connecting to an NMEA 0183 bus that may have picked up potentially hazardous voltages around the electrically noisy environment of a boat. Designed for general-purpose PC protection. ActisenseTM RS485 cable The second type, p/n PC-RXTX-1-A contains a full RS485 bi-directional (automatic) interface, with protection against electrostatic discharge included. This does not provide the complete protection of the opto-isolation device, as the ground connection is common, but it will protect a PC against most common noise spikes present on a boat. Designed for use in reprogramming the ActisenseTM Depth/Speed/ Temperature (DST) modules and transducers. Enables the flash update software to connect to the sensor and download new software whenever it becomes available on the ActisenseTM website. No external power supply is required, as each interface takes all necessary power from the PC port. Simple installation requires wiring the open end to the NMEA bus, and plugging the D-type connector into the PC. The NMEA data will then be available to the computer via its communications port. Excelling in Smart Sensor Design When connected to the NMEA bus, the PC can pick up transmitted NMEA sentences, for display by any standard NMEA 0183 display software, such as a chart plotter program or the ActisenseTM Multi NMEA display PC program.
Open the catalog to page 1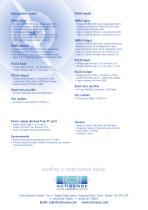 Opto-isolator model NMEA Input NMEA Input Exceeds all NMEA 0183 input voltage specifications Capable of receiving 1.8v differential signal levels Current limited (protects from cable faults) Over voltage protected to 35v DC Logic '1' / stop bit: Minimum –15.0v, Maximum 0.5v Logic '0' / start bit: Minimum 4.0v, Maximum 15.0v NMEA input to output protection: 2000v DC NMEA Output • • • • Exceeds all NMEA 0183 output voltage specifications Maximum current: 10 mA (dependent on port) Max. short circuit current: 10 mA (dependent on port) Logic '1' & '0' Dependent upon RS232 port voltage levels...
Open the catalog to page 2
All Actisense catalogs and brochures

Archived catalogs

Compare up to 10 products