Catalogs

>

NDC-3
Catalog excerpts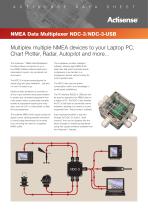 Actisense NMEA Data Multiplexer NDC-3/NDC-3-USB The Actisense™ NMEA Data Multiplexer/ Combiner allows connection of up to four NMEA (National Marine Electronics Association) inputs to be combined into one output. The NDC-3 is factory preconfigured for simple plug and play installation - just wire it in and it's ready to go. Electrical spike protection is provided on all four input channels using opto-isolators to protect any connected equipment from most system faults; a particularly valuable benefit as equipment requiring the most data, such as a PC or chart plotter, is often the most expensive. The buffered NMEA 0183 output boosts the signal current, allowing parallel connection to many bridge instruments at the same time, removing the need for a separate NMEA buffer. The multiplexer contains intelligent software, allowing high NMEA 0183 data rates that would overload simple multiplexers to be handled in a progressive manner, without losing the most important data. The NDC-3 has very low power consumption which is an advantage in small vessel installations. The PC Interface RS232 or USB port can be used to reproduce the NMEA data on a laptop or PC. The NDC-3 also enables the PC to talk back to connected marine hardware, allowing it to control on board equipment from "virtual cockpit" software. Easy reprogrammability is assured through the NDC-3's built-in "flash memory" that can be updated with the latest changes in interfacing standards using free update software available from the Actisense™ website.
Open the catalog to page 1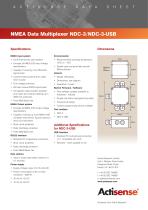 ACTISENSE DATA SHEET NMEA Input system • Each channel fully opto-isolated • Exceeds all NMEA 0183 input voltage specifications • Capable of receiving 1.8v differential signal levels • Current limited (protects from cable short circuits) • Over voltage protected • Will also receive RS232 signal levels • Full galvanic Opto-isolation (between all 4 inputs and outputs) offering up to 2000v DC protection • Fixed 4800 Baud rate NMEA Output system • Exceeds all NMEA 0183 output voltage specifications • Capable of driving up to 20 NMEA 0183 compliant instruments. Typical maximum drive is 8...
Open the catalog to page 2
All Actisense catalogs and brochures

Archived catalogs

Compare up to 10 products