Catalogs

>

NBF-1
Catalog excerpts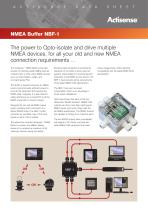 SHEET Actisense NMEA Buffer NBF-1 The Actisense™ NMEA Buffer is the best solution for buffering weak NMEA sources. It allows them to drive many NMEA devices such as chart plotters, radars, and on board laptop PCs. This buffer is required wherever an NMEA source cannot provide sufficient power to drive all the equipment that requires the NMEA data it supplies. It is also ideal for safely interfacing an on board PC to all the NMEA equipment on board a vessel. Designed for use with all NMEA output types, including direct connection to a laptop RS232 output, the NBF-1 buffer produces an amplified copy of the input signal on each of its 6 outputs. This allows the compact Actisense™ NMEA Buffer to connect one NMEA 'talking' device to (in practice) a maximum of 36 'listening' devices simply and safely. Electrical spike protection is provided as standard on the buffer's input using full galvanic Opto-isolation to provide superior protection to the NMEA source device. The NBF-1 input exceeds all the requirements of the latest NMEA 0183 specification. The NBF-1 has very low power consumption which is an advantage in small vessel installations. Tests have shown that each of the four differential "RS422 standard" NMEA 0183 outputs can drive more than eight typical NMEA inputs, and more if they meet the full NMEA specification. The RS232 outputs are capable of driving up to 2 devices each. The two RS232 outputs offer compatibility with laptop or PC inputs, and also with older NMEA 0183 equipment that used these voltage levels, whilst retaining compatibility with the latest NMEA 0183 specification.
Open the catalog to page 1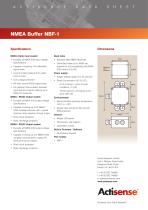 ACTISENSE DATA SHEET Specifications NMEA (Opto) Input system • Exceeds all NMEA 0183 input voltage specifications • Capable of receiving 1.8v differential signal levels • Current limited (protects from cable short circuits) • Over voltage protected • Will also receive RS232 signal levels • Full galvanic Opto-isolation (between input and all 6 outputs) offering up to 2000v DC protection NMEA / RS422 Output system • Exceeds all NMEA 0183 output voltage specifications • Capable of driving up to 32 NMEA 0183 compliant devices, with a typical maximum drive capacity of 8 per output • Short...
Open the catalog to page 2
All Actisense catalogs and brochures

Archived catalogs

Compare up to 10 products