Catalogs

>

DST-1
Catalog excerpts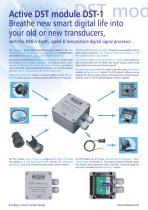 Active DST into mod Breathe new smart digital life Active DST module DST-1 with this NMEA depth, speed & temperature digital signal processor ... The Actisense™ Active Depth/Speed/Temperature module is the best solution for interfacing standard analogue transducers and NMEA 0183 compatible chart plotter's, radar's, and on-board laptop PC's. 150 KHz & 200 KHz depth transducer frequencies are available to match most existing transducers. For enhanced interference rejection, a 235 KHz capable module is also available. Designed for use with most existing analogue transducers already fitted to a vessel, or new analogue transducers. Our industry proven depth sounder algorithm has the best-in-class seabed tracking, and when in conjunction with a good quality depth transducer, can track the seabed down to 0.3m or 1 foot (proven with Airmar transducers) . Log transducer and temperature thermistor interfaces allow additional data to be provided over the NMEA data stream, giving a cable saving when those extra measurements are required. 100W peak depth power enables a maximum depth range of 200m or 660 feet under optimum conditions (proven with Airmar transducers). The DST module's data interface is configured for NMEA 0183, but can operate as a fully bidirectional RS485 interface for customised applications, such as an on-board multiple depth sounder network. Excelling in Smart Sensor Design Easy reprogramming of the DST module is possible using free software available on the Actisense™ website. The DST module's software can be updated with the very latest software enhancements, or special purpose software such as a fish-finder/hydrograph software upgrade. The DST module can be further enhanced with the Actisense™ NMEA display software for Windows™. This software displays the depth, speed, trip distance and temperature values, and plots a historical graph for each value. Available from the Actisense™ website.
Open the catalog to page 1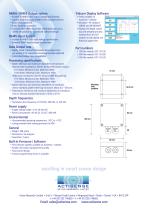 NMEA / RS485 Output system • Exceeds all NMEA 0183 output voltage specifications • Capable of driving up to 8 NMEA 0183 compliant devices • Short circuit protected • Static discharge protected • Standard 4800 NMEA Baud rate. Other Baud rates up to 38400 are possible for customised software designs RS485 Input System • Exceeds all NMEA 0183 input voltage specifications • Standard RS485 input voltage specifications Data Output rate • Depth, Speed, Trip and Temperature data output once per second if the respective transducer has been detected • Customised output rates are available Processing...
Open the catalog to page 2
All Actisense catalogs and brochures

Archived catalogs

Compare up to 10 products