Catalogs

>

2002-11-08 NDC-1
Catalog excerpts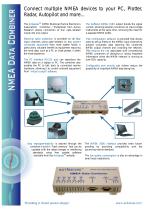 NMEA Data Combiner Connect multiple NMEA devices to your PC, Plotter, Radar, Autopilot and more... The Actisense™ NMEA (National Marine Electronics Association) Combiner / Multiplexer from Active Research allows connection of four opto-isolated inputs into one output. Electrical spike protection is provided on all four input channels using opto-isolators to any protect connected equipment from most system faults; a particularly valuable benefit as equipment requiring the most data, such as a PC or chart plotter, is often the most expensive. The PC Interface RS-232 port can reproduce the NMEA data on a laptop or PC. The combiner also enables the PC to talk back to connected marine hardware, allowing it to control onboard equipment from "virtual cockpit" software. Easy reprogrammability is assured through the combiner's built-in "flash memory" that can be updated with the latest changes in interfacing standards using free update software available from the Actisense™ website. The buffered NMEA 0183 output boosts the signal current, allowing parallel connection to many bridge instruments at the same time, removing the need for a separate NMEA buffer. Free configuration software is provided that allows users to set up filters on the NMEA input channels to prevent unwanted data reaching the combined NMEA output channel and crowding the network. This reduces the risk associated with conventional NMEA combiners of delaying or losing important information when the NMEA network is running at over 50% capacity. Configurable port priority can further reduce the possibility of important NMEA data being lost. The NMEA 2000 interface provides extra futureproofing by providing compatibility with the upcoming marine standard. The low power consumption is also an advantage in small boat installations.
Open the catalog to page 1
NMEA Input system • Each channel fully opto-isolated • Exceeds all NMEA 0183 input voltage specifications • Capable of receiving 1.8v differential signal levels • Current limited (protects from cable short circuits) • Over voltage protected • Will also receive RS232 signal levels • NMEA input to output protection: 2000v DC • Baud rate selectable (2400-9600) NMEA Output system • Exceeds all NMEA 0183 output voltage specifications • Capable of driving up to 25 NMEA 0183 compliant instruments. Typical maximum drive is 10 instruments • Short circuit protected • Static discharge protected • Baud...
Open the catalog to page 2
All Actisense catalogs and brochures

Archived catalogs

Compare up to 10 products