Catalogs

>

3M

>

troubleshooter
Catalog excerpts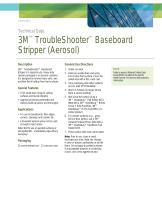 3M TroubleShooter™ Baseboard Stripper (Aerosol) Description 3M™ TroubleShooter™ Baseboard Stripper is a ready-to-use, heavy-duty cleaner packaged in an aerosol container. It is designed to remove heavy soils, wax, and floor finish buildup from hard surfaces. 1. Shake can well. 2. Hold can upside down and spray 6-10 inches from surface. Cover the soiled area with a thin, even coat. 3. If any overspray onto other surfaces occurs, wipe off immediately. 4. Wait 3-5 minutes (or longer where there is severe buildup). 5. Wet-scrub the surface using a 3M™ Doodlebug™ Pad Holder 6472 fitted with a 3M™ Doodlebug™ Brown Scrub 'n Strip Pad 8541, 3M™ Doodlebug™ Hi Pro Pad 8550, or a similar product. 6. For uneven surfaces (e.g., grout, brick or door jambs), use a 3M™ General Purpose Brush 4020 with a 3M™ Doodlebug™ Handblock Pad Holder 6473. 7. Rinse surface with clean warm water. Special Features Thick white foam clings to vertical surfaces and resists dripping Aggressive formula penetrates and loosens build-up quickly and thoroughly Applications For use on baseboards, floor edges, corners, stairways and ceramic tile Convenient aerosol spray can be used in tough to reach areas Note: Not for use on painted surfaces or old asphalt tile – immediately wipe off any overspray. Packaging 21-ounce aerosol can – 12 cans per case Note: Prior to use, clean a small, inconspicuous area. Note any change in color or texture, particularly on old tile floors. Do not apply to painted surfaces. If unacceptable abrasion or scratching occurs, use a less aggressive pad. Refer to product Material Safety Data Sheet MSDS 10-2818-2 for specific health hazard, first aid and precautionary information.
Open the catalog to page 1
3M Branch Sales Offices ANCHORAGE 11151 Calaska Circle Anchorage, AK 99515 4443 Malaai Street Honolulu, HI 96818 Mail to: P.O. Box 30048 Honolulu, HI 96820 CONTINENTAL UNITED STATES Customer Service Department 3M Center Building 223-5S-07 St. Paul, MN 55144-1000 Order Entry 1-800-852-9722 Facsimile 1-800-447-0408 CANADA 1840 Oxford Street East London, Ontario, Canada N5V 3G2 Mail to: P.O. Box 5757 London, Ontario, Canada N6A 4T1 Telephone: 800/364-3577 Facsimile: 800/479-4453 Important Notice to User Technical Information: The technical information, recommendations and other statements...
Open the catalog to page 2
All 3M catalogs and brochures

Compare up to 10 products