Catalogs

>

3M

>

3M™ Super Silicone PN 08661 08662 08663 08664
Catalog excerpts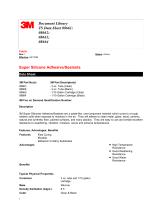 Document Library TS Data Sheet 08661; 08662; 08663; 08664 Public Rev:1 Effective: 05/17/99 Status: Active Super Silicone Adhesive/Sealants Data Sheet 3M Part No.(s) 08661; 08662; 08663; 08664 3M Part Descriptor(s) - 3 oz. Tube (Clear) - 3 oz. Tube (Black) - 1/10 Gallon Cartridge (Clear) - 1/10 Gallon Cartridge (Black) 3M Fax on Demand Identification Number: Description 3M Super Silicones Adhesive/Sealants are a paste-like, one-component material which cures to a tough, rubbery solid when exposed to moisture in the air. They will adhere to clean metal, glass, wood, ceramic, natural and synthetic fiber, painted surfaces, and many plastics. They are easy to use and exhibit excellent resistance to weathering, vibration, moisture, ozone and extreme temperatures. Features, Advantages, Benefits Features Fast Curing l Flexible l Adhesion to Many Substrates l Resistance l Good Weathering Resistance l Good Water Resistance Benefits Typical Physical Properties Container 3 oz. tube and 1/10 gallon cartridge Base Density lbs/Gallon (Appx.) Clear & Black
Open the catalog to page 1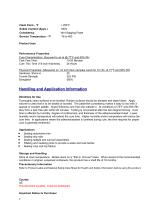 Flash Point - °F Solids Content (Appx.) Consistency Service Temperature - °F Product Uses Performance Properties Cure Characteristics: (Exposed to air at @ 77°F and 50% RH Tack Free Time: 10-20 Minutes Cure Thru Time (1/8 inch thickness) 24 Hours Physical Properties: (Measured on 1/4 inch thick samples cured for 72 Hrs. at 77°F and 50% RH Hardness, Shore A 25 Tensile Strength 325 PSI Elongation 550% Handling and Application Information Directions for Use Thoroughly clean surfaces to be bonded. Rubber surfaces should be abraded and wiped clean. Apply silicone to area that is to be sealed or...
Open the catalog to page 2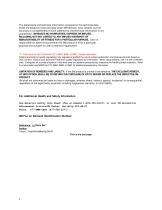 The statements and technical information contained in this technical data sheet are based on tests and data which 3M believes to be reliable, but the accuracy or completeness of such statements and technical information is not guaranteed. 3M MAKES NO WARRANTIES, EXPRESS OR IMPLIED, INCLUDING, BUT NOT LIMITED TO, ANY IMPLIED WARRANTY OF MERCHANTABILITY OR FITNESS FOR A PARTICULAR PURPOSE. User is responsible for determining whether the 3M product is fit for a particular purpose and suitable for user's method of application. * If 'Directions for Use' reference P.N.'s 8984, 8986, or 8987,...
Open the catalog to page 3
All 3M catalogs and brochures

Compare up to 10 products