Catalogs

>

3M

>

3M™ Automotive Refinish Masking Tape 388N
Catalog excerpts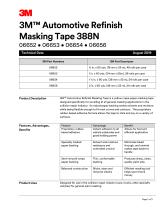 3M™ Automotive Refinish Masking Tape 388N 06652 • 06653 • 06654 • 06656 Technical Data Product Description Features, Advantages, Benefits 3M™ Automotive Refinish Masking Tape is a yellow crepe paper masking tape designed specifically for excelling at all general masking applications in the collision repair industry. Its robust paper backing resists solvents and moisture while being flexible enough to fit most curves and contours. The proprietary rubber-based adhesive formula allows the tape to stick and say on a variety of surfaces. Advantage Instant adhesion to all vehicle substrates and good holding power Benefit Allows for fast and efficient application Specially treated paper backing Solvent and moisture resistance and controlled unwind Minimizes bleed through, and unwind makes tape easier to handle Semi-smooth crepe paper backing Thin, conformable backing Produces sharp, clean, quality paint jobs Balanced construction Product Uses Feature Proprietary rubberbased adhesive Sticks, stays and removes cleanly Efficient masking tool helps save time & money Designed for use in the collision repair industry (cars, trucks, other specialty vehicles) for general paint masking.
Open the catalog to page 1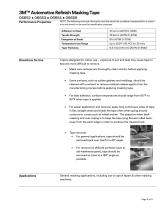 3M™ Automotive Refinish Masking Tape 06652 • 06653 • 06654 • 06656 Performance Properties NOTE: The following technical information and data should be considered representative or typical only and should not be used for specification purposes. Adhesion to Steel Tensile Strength Tape Thickness Tape is designed for indoor use – exposure to sun and heat may cause tape to become more difficult to remove. • Make sure surfaces are thoroughly clean and dry before applying masking tape. Some surfaces, such as rubber gaskets and moldings, should be cleaned with a solvent to remove residual release...
Open the catalog to page 2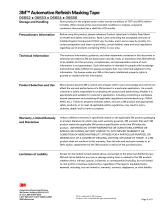 3M™ Automotive Refinish Masking Tape 06652 • 06653 • 06654 • 06656 Storage and Handling Store product in the original carton under normal conditions of 70°F and 50% relative humidity. When stored at the recommended conditions in original, unopened containers, this product has a shelf life of 18 months. Precautionary Information Before using this product, please reference Product Label and/or Safety Data Sheet for Health and Safety Information. Note: Laws controlling the acceptable amounts of Volatile Organic Compounds (VOCs) vary by state, and in some cases by locality. For surface...
Open the catalog to page 3
All 3M catalogs and brochures

Compare up to 10 products