Catalogs

>

3D Tender
Catalog excerpts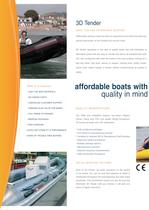 3D Tender SAFE , FUN AND AFF O RDABLE B O ATING Historically, owning a boat has been an expensive luxury that was reserved, almost exclusively, for the wealthy but not any more. 3D Tender specialise in the sale of quality boats ribs and inflatables at affordable prices that are easy to handle and above all exceptionally safe. Our fully configured craft meet the needs of the avid seafarer looking for a fast day fisher, dive boat, rescue or support, training boat, family cruiser, sports boat, beach hopper or tender without compromising on quality or safety. RIBs & Inflatables • Only the best...
Open the catalog to page 2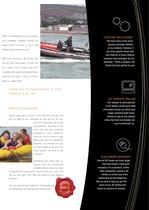 CUSTOM SOLUTIONS We have many of the more popular packages detailed you have specific needs with your boat let us know. Making customer boat packages are our speciality - There is always a 3D Tender that just perfect for you! co.uk always carries up-to-date information across our entire boat range, including latest news, events as well as any special offers that may be available. Be CUSTOMER SUPPORT Here at 3D Tender we never forget that what makes a truly good company is its customers. Unlike other companies, buying a 3D most of your 3D Tender and share our passion for boating / With a...
Open the catalog to page 3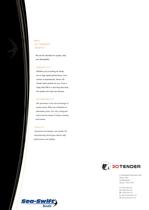 We set the standard for quality, style Whether you're looking for family fun or high speed performance, from novice or experienced, there's 3D Tender that's perfect for you. From a nippy little RIB to a stunning dive boat, the quality and value are obvious. We specialise in the sale brokerage of quality boats, RIBs and inflatables at affordable prices. Our fully configured craft meet the needs of today's boating Advanced hull designs, and quality UK manufacturing techniques deliver high 3 Sandygate Business Park Strap Lane
Open the catalog to page 4
All 3D MARINE catalogs and brochures

Compare up to 10 products