The Viking 82 Convertible -
4 Pages
VIKING 82 CONVERTIBLE
Our new flagship is coming your way.
When the Viking 82 Convertible premieres at the 2009 Yacht and
Brokerage Show in Miami, Florida, it will raise the bar to exhila-
rating new heights of engineering excellence. With its sleek pro-
file, dramatic window lines and lush, black mask, the breathtaking
82 Convertible will be the finest looking Viking ever produced.
The 82 Convertible will easily rival the accommodations of a luxu-
rious motor yacht but the engineroom, the flying bridge and the
cockpit, will reveal the heart and soul of a tournament contender.
Viking has proven beyond any doubt that a large convertible can
compete on the tournament circuit successfully, especially when
designed by a company with the talent and skills of our engineer-
ing, design and production teams. Our groups constantly challenge
the work we do with a philosophy that encourages our commit-
ment to try harder, to create then recreate, to keep at a project until
we are satisfied we have reached the peak and then reach for a little
more. It requires a lot of effort to do things this way, but it is the
Viking tradition and we are proud of it.
So understandably we are most proud of the 82 Convertible for it
showcases a boat building heritage spanning more than four de-
cades. Throughout the yacht, feature after feature demonstrates
our resolve to build a better boat everyday.
Tournament fishermen will find every element of success standard
equipment in the 220 square-foot cockpit. Insulated fish and bait
wells, tackle stowage, under mounted bait freezers, a transom door
and virtually anything you can think of will be there. The observa-
tion mezzanine, shielded from spray and sun by the flying bridge
overhang is inviting and a most comfortable place to wait out the
next bite. The mezzanine provides engineroom access as well and
depending upon the interior you select, the entrance doubles as a
private route to the crew quarters.
The 82 will be offered with open bridge and enclosed bridge ar-
rangements. The open bridge features a center console station with
three Murray Products helm seats with teak ladder backs as stan-
dard equipment providing excellent sightlines for cruising and fish-
ing. There is room to install three 17-inch monitors behind clear
acrylic panels inside the console, with additional compartments
for communication equipment. More stowage space is available
beneath the helm. Forward of the helm is built-in refrigeration and
a U-shaped settee and table. Air conditioning also will be available
on the open bridge.
Viking's track record for building enclosed bridge convertibles is
unmatched and the 82 Enclosed Bridge Convertible will follow
suite. The climate-controlled command station is a perfect comple-
ment to the deck house and beautiful sheer with matching window
lines for a seamless appearance. Often referred to as a second sa-
lon, the area abaft the helm will feature a raised L-shaped sofa, a
12 VIKING VALHALLA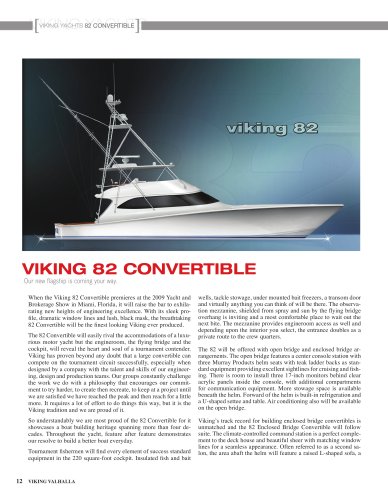 Text version
Archived catalogues