The Viking 52 Sport Coupe -
2 Pages
VIKING
SKY
SPORT COUPE,
EDITION
The Ultimate Day Boat,
The Viking 52 Sport Coupé Sky Bridge is arguably the best look-
ing day boat on the water today and it represents a significant evo-
lution, which began with the introduction of the 52 Convertible
several years ago. The hull of the Viking 52 is a powerhouse of
marine engineering. With 12-cylinder diesels it will cruise effort-
lessly all day in the mid-30 knot range and top out at higher speeds
depending upon load and sea conditions. It is a hull that loves
rough water and the generous beam provides maximum accom-
modation comfort and flexibility.
The hull of the 52 Convertible led to the creation of the 52 Open.
This sleek express boat was designed for owners who wanted the
performance and luxury of a convertible sans flying bridge. With
the cockpit just a few feet from the helm, it is easily manageable
by a couple and a great alternative for a two or three person crew
to fish alongside larger battle wagons on the tournament circuit.
Using our $1 million five-axis profiler, we designed and built the
deck assembly including the mezzanine and cockpit as a single,
seamless unit, which effectively and accurately matched the hull.
The stylish boat has proven to be popular for both our domestic
and international customers. It soon became apparent that not only
could the five-axis profiler help us bring new models to fruition
more quickly to respond to emerging trends, but also it opened up
a rather large door to allow us to build a model within a model.
Bill Healey is fond of saying that no one gets into trouble at Viking
for moving too quickly and it wasn't long before our design and
engineering teams were back to the five-axis profiler. The mission
this time was to create still another new model utilizing the 52 hull
with radically different topside and clever accommodations below.
The result was a unique sport yacht cruising machine we fondly
refer to as the 52 Sport Coupé. This version was aimed at both
casual and blue-water serious cruising yachtsmen with hard sides
and an aft bulkhead, plus a completely different interior plan with
a deckhouse salon, a lower galley, two staterooms and two heads.
A variation of the Sport Coupé soon followed with an open aft
bulkhead. The concept was to create a spectacular day boat envi-
ronment for fishing and diving enthusiasts.
With four distinct 52-footers already on the water to fit virtually
any inshore or offshore requirement for cruising and tournament
fishing, an average builder might leave well enough alone. But
the Viking Yacht Company likes its view from the top and we are
anything but average. During another session with the five-axis
profiler, the machine produced a plug to build a mold we called
a "sky bridge." This component came about from an owner's re-
quest for a compact open bridge to sit atop his 68 Enclosed Bridge
Convertible for those sunny days when he'd prefer to be "outside"
rather than inside the air conditioned bridge.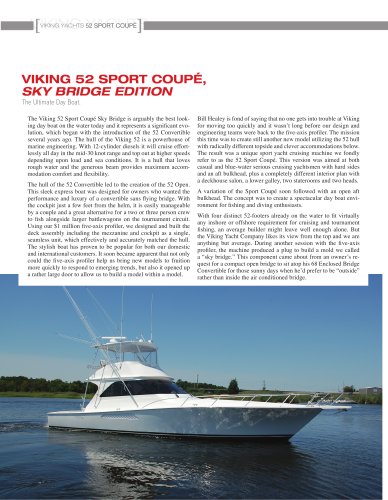 P. 2

When a customer ordering a 52 Sport Coupé with an open aft bulk- head hinted the crowning touch for his yacht would be a flying bridge like...
Text version
Archived catalogues