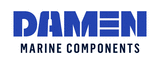 Booth

Van der Velden Marine Systems
Group: Van der Velden
Catalogues

News

Exhibitions
VERSIE 4 -
8 Pages
The choice is yours
The standard EPS™ delivery package consists of the following:
• EPS™ thruster including composite material blades
• Cables to the junction box
• EPS™ mounting ring and rubbers
• Tunnel & streamline inserts
• State-of-the-art frequency controllers
• Standard bridge control position
About Van der Velden Marine Systems
Van der Velden Marine Systems equipment offers maximum manoeuvrability in every field of
maritime operation. Reliability, easy maintenance, safety and a long life-span are key drivers
throughout the design, manufacturing and installation processes. Both customers and yards benefit
from an easy to install and integrated solution, a unified overall design and one project coordinator for
the manoeuvring system.
Van der Velden's portfolio includes steering gear, rudder arrangements, hydrospoilers, passerelles,
marine cranes, side boarding ladders, bow thrusters, heat exchangers and cooling units.
Text version
All Van der Velden Marine Systems catalogues and brochures
Archived catalogues
TIMON Rudder

2 Pages

Barke Rudder

2 Pages