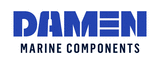 Booth

Van der Velden Marine Systems
Group: Van der Velden
Catalogues

News

Exhibitions
VERSIE 4 -
8 Pages
PROPELLING FORWARD
The success of the EPS™ thruster has led to the development of a propulsion variant. Its blades are
optimised for one direction rather than two. Combined with the capability of continuous use, this type
of EPS™ thruster can be deployed as main propulsion.
In addition to enhancing the propeller blades, the ring motor housing has been shaped into an
efficiency improving nozzle. A hydrodynamic stator provides extra propulsive power and greatly
improves the mechanical strength of the system.
Azimuth i ng Retractable
The EPS™ azìmuthìng retractable thruster offers many advantages for larger motor yachts. A compact
design means it can be placed in the skeg or underneath a swimming platform for storage during
cruising. When keeping station, the 360° azimuthing thruster allows the main engines to be stopped.
Text version
All Van der Velden Marine Systems catalogues and brochures
Archived catalogues
TIMON Rudder

2 Pages

Barke Rudder

2 Pages