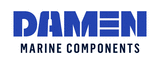 Booth

Van der Velden Marine Systems
Group: Van der Velden
Catalogues

News

Exhibitions
VERSIE 4 -
8 Pages
Reliable - Powerful performance
Conventional thrusters usually have a significant gap in thrust between port and starboard.
The revolutionary EPS™ thruster offers an equally powerful thrust on both sides of the vessel.
It also provides a higher degree of accuracy and fast reactions that make manoeuvring a breeze.
Moreover, tests have proven that the engine is exceptionally reliable even with sustained periods of use.
The EPS™ thruster and all its related parts have been designed and manufactured to the highest
possible quality and environmental standards. The simple construction and exchangeable blades
provide easy maintenance. Use of high performance water lubricated bearings and high-tech
materials further enhances the system's reliability and strength.
The EPS™ tunnel side thruster is mounted directly in the tunnel
using rubber mountings to reduce vibrations.
Green credentials
From the beginning of the EPS™ design process, sand infiltration and water pollution were taken into
account. The innovative solution is to use the surrounding water for both lubrication and cooling of
the electric ring motor driving the blades. This is highly effective and exceptionally friendly for the
environment.
Text version
All Van der Velden Marine Systems catalogues and brochures
Archived catalogues
TIMON Rudder

2 Pages

Barke Rudder

2 Pages