OLYMPIC TRITON -
2 Pages
ULSTEIN P101
Hull no. 278
Designed by Ulstein Design AS
Delivered 2007 by Ulstein Verft AS
Built for Olympic Shipping
MA/ "OLYMPIC TRITON" is a Multifunctional
Platform Supply Vessel designed by Ulstein
Design AS. The vessel is equipped with a
diesel electric power plant, azimuth main
thrusters and IMO Class 2 DP plant, ensur-
ng the vessel to obtain the best operating
characteristics in both sailing and DP mode
The vessel is equipped with an Offshore
crane, ROV hangar, and large moon pool,
and is built to serve the oil exploration and
oil production industry world wide
Main Activities
• 1 50 t SWL Offshore Crane for handling
of construction blocks over ship side. Two
demountable sections of cargo rail port side,
each of 8.5 mtrs. length
• Hangar with deployment of Work ROV to
both sides
• Reserved area for trencher spread aft of
ROV hangar starboard side, with demount-
able section for cargo rail stb. side, length
14 mtrs.
• Large cargo deck capacity
• Anti heeling system for crane operations,
ntegrated in Ulstein IAS.
• Handling and installation of equipment on
sea floor through moon pool by means of
handling tower (option).
MA/"OLYMPIC TRITON" is built, equipped,
and painted (tanks and exterior) in drydock
nside covered dockhall, thus ensuring
controllable atmosphere and the best quality
of work.
A Green Passport complying with IMO ship
recycling recommendations is issued.
OLYMPIC
OLYMPIC SHIPPING AS
Shipbuilding by Ulstein Verft AS: Ulstein builds sophisticated vessels with a strong focus
on innovative technological solutions and methods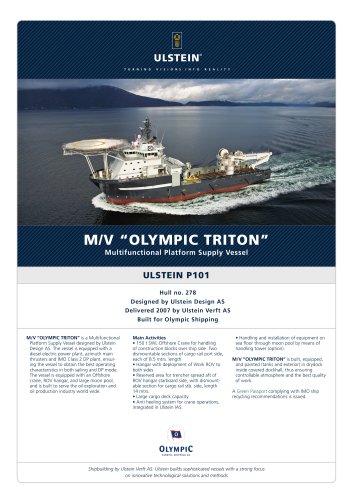 P. 2

MAIN DIMENSIONS Length over all approx. 95,0 Length between p.p. 82,0 Breadth moulded 20,5 Depth...
Text version
All ULSTEIN catalogues and brochures
Archived catalogues