Booth

Standard horizon
Group: Vertex
Catalogues

News

Exhibitions
Handheld VHF -
16 Pages
HX350S
VHF Submersible Radio
10 Hour Rechargeable Battery
AA Alkaline Tray
110V/12VDC Battery Chargers
3-Year Waterproof Warranty and Lifetime
Flat Rate Service Agreement
Submersible to 3 Feet for 30 Minutes
Huge LCD Display - Largest Available in
Any Handheld
Backlit Keys - Easy Readability at Night
Programmable Scan/Priority Scan - You
Select Your Own Priority Channel
NOAA Weather Alert
Nothing takes to water like Horizon!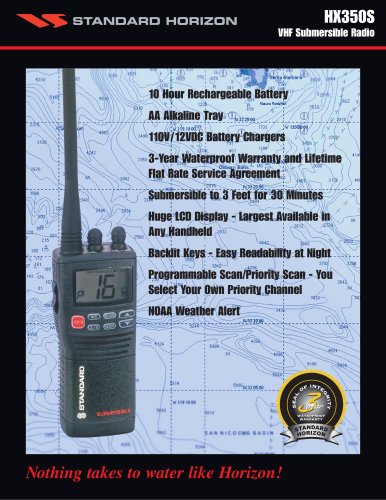 P. 2

STANDARD HORIZON HX350S VHF Submersible Radio STANDARD HORIZONS' pocket sized HX350S is no ordinary 5 watt portable VHF. The HX350S is submersible, includes...

P. 3

Horizon HX260SVHF Marine Transceiver5-Watt transmit powerSubmersibleSupplied with NiCad battery andSeperate Alkaline Battery TrayBacklit LCD and KeysInstant...

P. 4

Horizon HX260SVHF Marine TransceiverThe Horizon HX260S is no ordinary 5-watt portable VHF. TheHX260S is the least expensive submersible VHF handheldavailable...

P. 5

SubmersibleVHF Marine Transceiver•Included Ni-MH Battery Pack (7.2 V 1400 mAh),Dry cell Battery Packand Drop-in 10 hour Chargerwith AC and DC Power...

P. 6

SubmersibleVHF Marine TransceiverFeatures you expect and unique functionsThe HX270S has all USA, Canadian and International VHF marinechannels, one button...
Text version
All Standard horizon catalogues and brochures
Archived catalogues