Booth
Seldén
Mats -
19 Pages
T h e ya c h t
m a s t r a n ge
DINGHIESKEELBOATSYACHTS
Seldén Mast AB, Sweden
Tel +46 (0)31 69 69 00
Fax +46 (0)31 29 71 37
e-mail info@seldenmast.com
The Seldén Group is the world's leading manufacturer of masts and rigging systems in carbon
and aluminium for dinghies, keelboats and yachts.
Seldén Mast Limited, UK
Tel +44 (0)1489 48 40 00
Fax +44 (0)1489 48 74 87
e-mail info@seldenmast.co.uk
Seldén Mast Inc., USA
Tel +1 843-760-6278
Fax +1 843-760-1220
e-mail info@seldenus.com
Seldén Mast A/S, DK
Tel +45 39 18 44 00
Fax +45 39 27 17 00
e-mail info@seldenmast.dk
The Group consists of Seldén Mast AB in Sweden,
Seldén Mast A/S in Denmark, Seldén Mast Ltd in
the UK, Seldén Mid Europe B.V. in the Netherlands and Seldén Mast Inc in the USA. Our well
known brands are Seldén and Furlex. The worldwide success of Furlex has enabled us to build a
network of over 750 authorised dealers covering
the world's marine markets. So wherever you sail,
Printed in Sweden. Boab Tryckeri AB.
Dealer:
spare parts and know-how.
scp. göteborg
www.seldenmast.com
you can be sure of fast access to our service,
595-822-E / 2004-09-16
Seldén Mid Europe B.V., NL
Tel +31 (0) 111-698 120
Fax +31 (0) 111-698 130
e-mail info@seldenmast.nl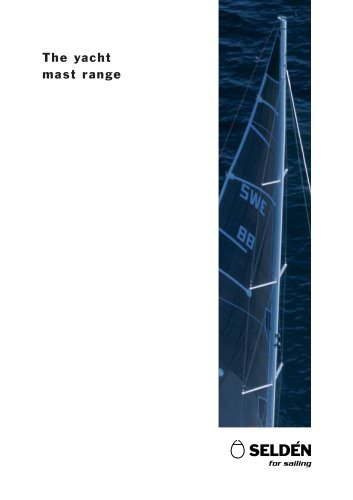 P. 2

Long, stiff and loaded Modern sailcloth and sail design call for longitudinal stability. Most rating systems call for rigs without running backstays....

P. 3

Performance for racing Loads created by the crew (mainsheet, halyard vang, out- haul, Cunningham, etc.) are transferred to the mainsail...

P. 4

We l l p re p a re dSeldén's mast section is prepared for sailslides, MDS (Multi Directional Support)full batten cars, cable running, and efficient...

P. 5

The MDS conceptM10 bolt connection for full batten fittings.Guide flange.Side-load absorbing wheel.Side-load absorbing wheels.Three pairs of wheelsfor...

P. 6

Smart sail entry The sail entry gate is designed for use with MDS cars or with conventional sail slides. When using it with MDS cars, you simply...
Text version
All Seldén catalogues and brochures
Archived catalogues