Booth:
Sea Hawk
BiocopTF -
3 Pages
BIOCOP TF™
Revision date:
March 2014
Technical Data Sheet
Advanced Dual Biocide
Maximum Performance for All Vessels
1200-1 Series
• Maximum Protection Available
• PL3 Advanced Dual Biocide Technology
• Harder, Self-Polishing Boosted Ablative for
Longer Life
• Multi-Season Performance
• TBT-Free– Lloyd"s Registered
PRODUCT DESCRIPTION
Biocop TF was developed as an
alternative to tin-based antifouling
paints to protect against the harshest
marine environments. Using the
newest biocide technology, a
revolutionary polymer binder system
"PL3" produces an engineered dual
biocide release that leaves no harmful
effects on the environment. The result
is a multi-season self-polishing paint
that provides equivalent protection to
tin-based formulas.
PRODUCT INFORMATION
Colors: Red 1201-1, Light Blue 1202-1, Black 1205-1,
Dark Blue 1230-1, Grey 1231-1, Green 1234-1, Teal 1235-1
Finish/Sheen: Semi-Gloss
Biocide Content: 4.5%
Copper Content: 42% (all Colors)
Volume Solids: 62% +\- 2%
Solids by Weight: 85
Shipping Weight: 17-18 Lbs./Gal.
Flash Point: 100°F
VOC: 398 Grams/Liter
Typical Film Thickness:
Pleasure Craft: 3.0 mils dry film thickness (DFT) per coat, (5.0
mils wet film thickness (WFT))
Commercial Marine: 4.0-5.0 mils DFT per coat by spray
application (7.0- 8.0 Mils WFT)
Recommended Coats: 2 heavy coats on entire hull and 3 at waterline
and other high wear areas
Theoretical Coverage: 331 Sq.Ft./Gal. @ 3.0 mils DFT
FEATURES & BENEFITS
• Advanced Dual Biocide PL3 Release Technology for Longer Life
• Harder, Self-Polishing Polymer Binding System
• Highest Grade of Cuprous Oxide Available
• Better Color Consistency for Color Matching
• Provides Maximum Fouling Protection as TBT Type Products
• Lloyd"s Registered (TBT-FREE)
(Page 1 of 3)
NEW NAUTICAL COATINGS, INC.
14805 49th Street North • Clearwater, FL 33762 • 727.523.8053 • 800.528.0997 • FAX 727.523.7325 • www.SeaHawkPaints.com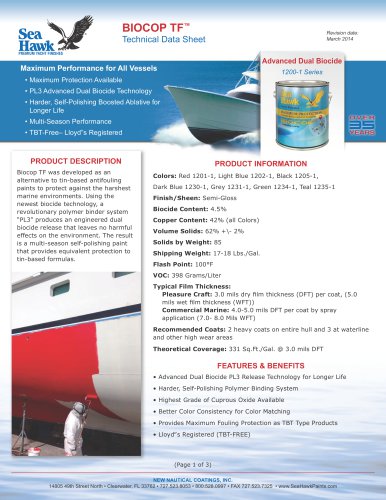 Text version
All Sea Hawk catalogues and brochures
Archived catalogues
Sea Hawk Compatiblity Chart

3 Pages

Brochure

20 Pages