Booth
Scout Boats

Scout Boats, Inc. -
30 Pages
2 0 0 6
F
U L L
L
I N E
C
O L L E C T I O N
2531 Hwy 78 West
Summerville, SC 29483
843-821-0068
www.scoutboats.com
YOUR AUTHORIZED SCOUT DEALER
Abaco Series | Dorado | Sportfish | Bay Scout | Costa
Penn Reels equipment
was used during this
brochure photo shoot
Scout Boats has made every effort to ensure all information is accurate at time of publication and is not responsible for typographic errors or omissions. All models, specifications, features,
equipment and colors are subject to change or be discontinued without notice. Some models may be shown with optional equipment. See dealer for a complete list of standard and available
options and model availability.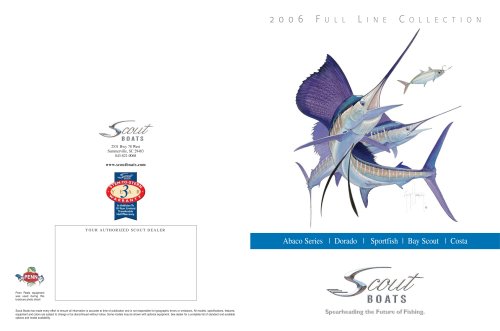 P. 2

Abaco Series280 Pg. 7-8 | 262 Pg. 9-10 | 242 Pg. 11-12 | 222 Pg. 13-14Dorado222 Pg. 15-16 | 205 Pg. 17-18 | 185/175 Pg. 19-20Sport Fish282SF Pg. 21-22...

P. 3

The story of Scout Boats is one of true American entrepreneurialism, courage and anunmatched dedication to building the toughest, most innovative boats...

P. 4

the problem of static stability, common on small boats. With additionallongitudinal buoyancy, the Air-Assist hull increases static floatation,decreases...

P. 5

280Vintage L.E.ABCThe 280 Vintage (powered by a 320 hp 4.2 literCummins MerCruiser engine) was designed forserious offshore fishing with a huge aft fightingdeck;...

P. 6

262AbacoS E R I E SABCNew for 2006, the 262 Abaco Series incorporatesA) Interior cabin features stove, microwave,sink, quarter-berth and fully enclosed...
Text version
All Scout Boats catalogues and brochures