Booth
Rolec Services
Catalogues

News

Exhibitions
ROLEC -
1 Pages
Global Marina Services
Quality • Innovation • Reliability
PROTECTION AGAINST
FREEZING INSIDE
ROLEC PEDESTALS
Whilst all Rolec pedestals containing water
systems come complete with lagging as
standard, lagging on its own will not always
protect again freezing in sub-zero
temperatures.
To assist against pipe freezing we are able to
upgrade the water system to include
self-regulating heat trace tape.
• Connects directly to mains electrical
supply inside the pedestal
• Self-regulating temperature control (no
thermostat required)
• Heat trace tape can be cut to length to
suit each application
• Very low operating cost
• Heat trace tape systems are available for
the marina's entire water system
Note: It is always recommended that a
marina's water system is drained in the event
of freezing temperatures.
YOU SPECIFY IT - WE BUILD IT
t: ++44(0)1205 724754
f : ++44 (0)1205 724876
rolec@rolecserv.co.uk
Rolec Services Ltd,
Ralphs Lane,
Frampton West, Boston,
Lines, UK. PE20 1QU
www.rolecserv.com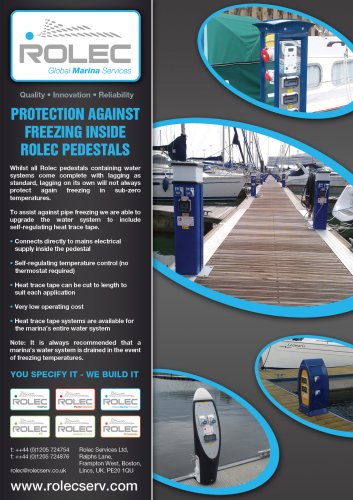 Text version
All Rolec Services catalogues and brochures
Archived catalogues
Catalog

25 Pages