Booth
Rolec Services
Catalogues

News

Exhibitions
Catalog -
25 Pages
Rolec 48pp 2008 to print.qxd
3/12/07
2:30 am
Page 34
Marina lighting
At Rolec we focus on two forms of marina
There are many benefits in using LED lighting:
lighting, the first of which is conventional lighting,
Up to ten times the life expectancy of
and the second is LED lighting.
conventional lighting
Roline
BerthMaster
SmartMaster
Conventional lighting
EnergyMaster
Roline
Hugely energy efficient
TimeMaster
MegaMaster
Roline
Every service pedestal in our product range has
Small in size
BerthMaster
SmartMaster
Roline
EnergyMaster
the facility to be equipped with a variety of energy
efficient lighting.
Roline
BerthMaster
TimeMaster
SmartMaster
Roline
MegaMaster
EnergyMaster
Roline
BerthMaster
TimeMaster
SmartMaster
MegaMaster
Roline
EnergyMaster
Roline
BerthMaster
TimeMaster
SmartMaster
MegaMaster
We also produce a range of lighting only
EnergyMaster
Roline
pedestals and columns which are ideal for use on
TimeMaster
Multi-colour options
Aesthetically pleasing
However, there are also potential problems if the
LEDs used are not fit for purpose.
MegaMaster
main walkways and quaysides.
LED lighting
Although LED lighting technology is not new in
itself its introduction to the marina industry is
relatively new.
Rolec has carried out a number of studies and
product trials of LED lighting and has found that
many of the 'off-the-shelf' LED lights will simply
not produce the desired results or stand up to
the elements of a marina environment.
Corrosion, heat dissipation and condensation are
Underwater lighting for marinas
A further introduction to the Rolec lighting range
is LED underwater lighting.
all highly important factors that need to be
Illuminating the water around the pontoons,
access bridges and quay walls will introduce an
amazing night time experience to any marina or
waterfront development.
diminishing light output.
This underwater lighting experience can also be
extended to illuminate the water around the
boats moored in the marina.
designers and manufacturers and has now
34
considered when choosing an LED lighting
system in order to avoid regular light failure and
Over a two year period Rolec has been working
closely with a small number of specialist LED
successfully introduced an LED lighting range
designed specifically for the marina industry.
Combi LED deck lighting
Rolec has introduced a new range of LED
combination lighting ideal for marina decking, access
bridges and quaysides.
The combi light is mounted in a hard wearing
aluminium housing with light output in two directions.
The twin light outputs can also be supplied in different
colours to provide both functional and ornamental
lighting from the same housing.
The most popular option is to install the combi unit on
the waterside edge of the pontoon, with the blue
ornamental light facing the boats/water and the white
functional lighting shining across the decking.
35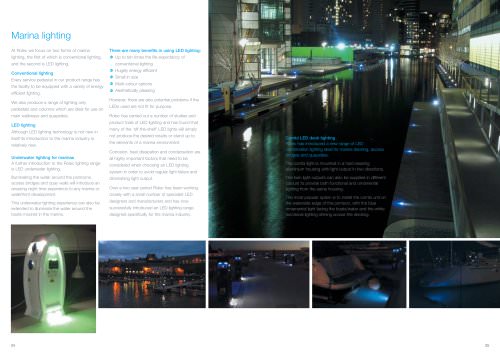 P. 13

24 The Ocean The Ocean range is a highly sophisticated range of products developed to give the marina a real sense of class. Each Ocean pedestal...

P. 14

Rolec 48pp 2008 to print.qxd3/12/072:11 amPage 26Megamaster finishes include:Powder coated aluminiumRolinePolymer coated aluminiumBerthMasterSmartMasterRolineEnergyMasterRolineBerthMasterTimeMasterSmartMasterMegaMasterRolineEnergyMasterStainless...

P. 15

Rolec 48pp 2008 to print.qxdDeckclear3/12/072:14 amPage 28The Deckclear range of products has been designed to allow electrical sockets andRolec manufacture...

P. 16

Energymaster & Timemaster Rolec has two ranges of reliable and proven stand-alone pre-payment systems, Energymaster and Timemaster. Both...

P. 17

Rolec 48pp 2008 to print.qxd3/12/072:29 amPage 32Berthmaster & SmartmasterRolec has two networked electricity andThe Smartcard can also be used for:water...

P. 19

LED pedestal lighting All of Rolec's service pedestals can be equipped with LED lighting In a variety of different colours and combinations. LED...

P. 20

Rolec 48pp 2008 to print.qxd3/12/072:51 amPage 38RolineRolineEmergency servicesOne of the most important roles of any marinaoperator is the safety of the...

P. 21

Emergency services Life buoys Life buoys complete with attached floating throwing rope can be provided on emergency service pedestals or on...

P. 22

Rolec 48pp 2008 to print.qxd3/12/072:52 amPage 42Rolec Pump-outRolec offer a comprehensive range of 'free-to-use' or 'pay-to-use'...

P. 23

Electrical distribution One of the most expensive elements of a marina is its electrical distribution system. Rolec's experience In the design of...
Text version
All Rolec Services catalogues and brochures