Booth
Opacmare

complete brochure -
54 Pages
Non vedeva più ¡I verde della riva,
He could not see the green oí the shore
ormai, ma soltanto le cime delle colline
now but only the tops oí the blue hills that
azzurre che si stendevano bianche come
showed white as though they were snow-
se fossero incappucciate di neve, e le
capped and the clouds that looked like
nuvole, che sopra di esse parevano alte
high snow mountains above them. The sea
montagne nevose. Il mare era molto scuro
was very dark and the light made prisms
e la luce creava prismi nell'acqua. Le
in the water The myriad ílecks oí the
chiazze innumerevoli di plancton erano ora
plankton were annulled now by the high
cancellate dal sole alto ed erano soltanto
sun and it was only the great deep prisms
grandi prismiprofondi nell'acqua azzurra
in the blue water that the old man saw
che il vecchio vedeva ora con le lenze diritte
now with his lines going straight down into
nell'acquaprofonda un miglio.
the water that was a mile deep.
sistema ribaltamento balcone
tilting balcony system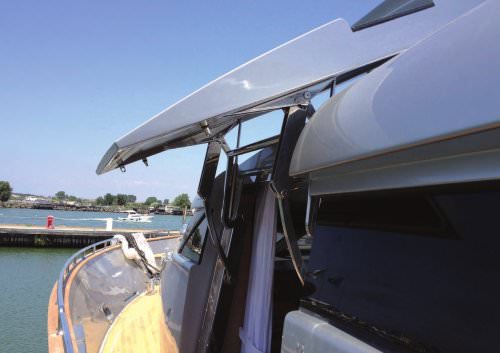 P. 19

porte a tenuta d'acqua weather proof doors Ora le nuvole a terra si alzavano come montagne e la costa non era che una lunga linea verde davanti...

P. 20

prodotta dal sole nell'acqua, ora che ¡I sole because it meant fish. The strange light the era più alto, significava bel tempo, e così sun...

P. 21

invisibile e nulla si mostrava sulla superficie dell'acqua tranne qualche chiazza gialla di sargassi sbiaditi dal sole e la bolla violetta, stilizzata,...

P. 22

Le bolle iridescenti erano belle. Ma erano le cose più false del mare e al vecchio piaceva vederle mangiare dalle grandi tartarughe marine....

P. 23

portelli e tambuca ports and hatchs occhi, in modo da essere completamente protette dentro il guscio e le mangiavano, coi filamenti e tutto....

P. 25

porte manuali con finestra automatica manual doors with automatic window Poi si guardò alle spalle e vide che la terraferma era scomparsa....

P. 26

Mi piacerebbe vederlo. Mi piacerebbe vederlo un momento solo per sapere contro che cosa devo combattere. what a fish to pull like that. He must...

P. 27

porte manuali manual doors Poi incominciò a sognare la lunga spiaggia gialla e vide il primo leone giungervi sul fare del buio e poi...

P. 28

da tanto tempo sopito e lo pose contro 'agonia del pesce e il pesce si accostò al suo fianco e nuotò con garbo sul fianco sfiorando...

P. 29

una lenza con un amo a cucchiaio per cercar di procurarmi qualcosa da mangiare e da succhiare. Ma non riuscì a trovare il cucchiaio e le...
Text version
All Opacmare catalogues and brochures