2012 obrien -
92 Pages
&LUGGAGE
LARGE TRAVEL ROLLER
Super sized for long trips and a ton of gear. All kinds of
compartments for your stuff make the Duffel bag a necessity
for the serious traveler. Lots of straps, rolling wheels and a
retractable handle help make your trips easy.
• L32"XW14"XH13"
TRAVEL CASE (DOUBLE SIDED)
Great for smaller trips and a variety of gear, plus it fits just
right in your overhead compartment. Pull out the retractable
handle and roll it straight to the gate. Traveling should
always be this simple.
• L22"XW13"XH9"
THE PETE CAMERA BAG
Absolutely perfect for your brand new Digital SLR
and the many lenses and accessories that go with it,
completely customizable inner with Velcro walls that can be
arranged to almost any configuration.
REBEL BACKPACK
Large enough for a weekend trip to the lake
• Air-flow back padding
• Media pocket
• Shock absorbing shoulder straps
• Padded computer pocket
• Fits most 17" wide screens
• Skateboard strap
LAPTOP CASE
Protect your fifteen-inch in the fully padded
sleeve. Relieve the chaos of spaghetti junctions
and zip open the front flap to organize cables and
accessories in the proper internal pockets. More
personal tools like your PDA, GPS, keys, CDs,
documents, pens, and keys all remain secure in
the front divider.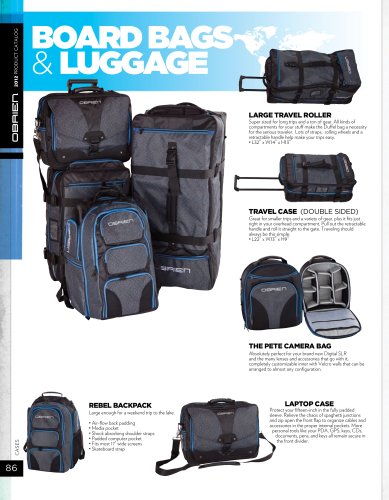 P. 81

Upto 15LBS 1S-30 LBS 30-60 LBS 60-80 LBS OVER 80 LBS PET VEST • Nylon handle on back. • 1 Neck buckle. • 2 adjustable...

P. 82

MENS 4 BELT PRO SIZES: XS.SM, M, LG,XL,2XL,3XL,4XL,5XL • Soft, flexible foam core for outstanding comfort. • Sturdy nylon exterior...

P. 83

YOUTH NYLON SIZES: Youth 50-90 lbs. • Available in pink or blue • Three belts for security • Coast Guard approved YOUTH...

P. 84

TEAM T-BAR W/ARMOR LINE TEAM T-BAR W/REACTOR LINE SKYLA W/REACTOR LINE • Flexible injection molded frame • Comfortable...

P. 85

4-SECTION SPECTRA WAKE COMBO 4-SECTION POLY-E WAKE COMBO WAKESURF ROPE • 15" EVA Handle with 60' Spectra »15"...

P. 87

WAKEBOARD TRAVELER Great for long trips and a whole lot of gear too. The traveler case has a built in extension to fit a variety of board sizes. Toughness...

P. 88

ELITE PRO Incredibly lightweight with unmatched gripping power. • Full fingered design • Amara panels for wear resistance •...

P. 89

10'x3' BANNER VINYL REPAIR KIT BOTTLE OPENER DIECUT STICKER PACK (6 PIECE SKI OR WAKE) LEASH 5'x3" BANNER ^^^^0 HAN GÌ I...

P. 90

2012 PRODUCT CATALOG3D TEEOLLIE TEEELITE TEEHALFTONE BOARD SHORTSAPPARELRASTA TEE9088WAKE TEEELITE HAT

P. 91

2012 PRODUCT CATALOG(REVERSIBLE)DECOY HOODYWALLETO'BRIEN SANDALSAPPARELORIGAMI HOODY9189
Text version
All O'Brien catalogues and brochures
2013 O'Brien Catalog

100 Pages