2012 obrien -
92 Pages
2012 PRODUCT CATALOG
Taking cues from our already industryleading kneeboard designs, we've blended
wakeboard & waterski elements into the
hull. Wakeboard styled QUAD cupped
molded fins make edging effortless,
while allowing release for spin tricks and
bringing levels of performance previously
unheard of at this price.
VOODOO
One ride and the Voodoo will have you under its spell… With performance edges and a lowprofile cross section, the Voodoo combines hard-charging edging and a forgiving ride.  Quad
molded fins at each corner of the hull provide extra tracking control and the curved underside
makes edge transitions quick and smooth.  The 3/4" thick pad provides plush comfort for your
knees and the padded strap locks you in for maximum control.
Features:
• Integrated hook
• 3/4" EVA pad
• Padded adjustable strap
• Variable beveled edge
• Quad molded fins
Aquatic Hook
RADICA
Taking cues from our already industry-leading kneeboard designs, we've blended
wakeboard and waterski design elements into the Radica to bring levels of performance
previously unheard of at this price.  Wakeboard styled quad, cupped molded fins make
edging and carving a breeze, while allowing release for spin type tricks.  The water-ski
influenced edge bevel helps the board sit low in the water for stability and allows quick
edge to edge transitions when carving.  With a built-in hook that makes getting up easy,
to a super-stable ride that beginners & intermediate riders will love – you just might say it's
radical!
KNEEBOARDS
Features:
• Integrated hook
• Quad molded fins
• EVA pad
• Variable edge bevel
Aquatic Hook
51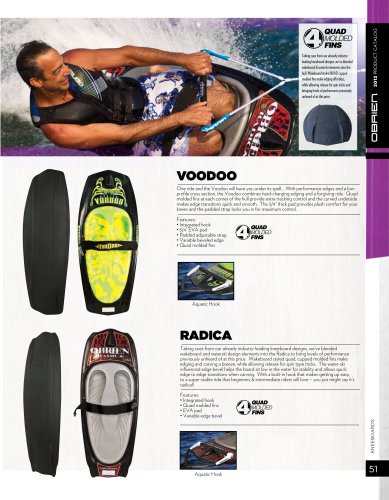 P. 46

FLUX The extremely adjustable X-8 binding securely holds almost any size foot without sacrificing performance. Extra surface area provided by the...

P. 47

ALL STAR •LENGTH-46" •STABILIZER BAR • TRAINER ROPE W/EVA HANDLE • WEIGHT RANGE UP TO 85 LBS •DUALTUNNEL •...

P. 48

FIBERGLASS KNEEBOARDS RUSH 5150 The 5150 has simply been the most dominant kneeboard on the water since the day it was introduced. The extreme...

P. 49

LOWRIDER Designed with performance in mind, the Lowrider's hard edges and channels provide a deep edge and release off the wake. Deep padded knee...

P. 50

ROTOMOLD KNEEBOARDS BLACK MAGIC With a shape inspired by the Lowrider and our patented rib design for strength and durability, the Black Magic...

P. 52

2012 PRODUCT CATALOGLoad this App on your Smart phone to viewinstructional and action video !KICK BACKTUBES• 80"x70"• UP TO 2 RIDERS•...

P. 53

WATCH VIDEO!• 60"x68"• UP TO 2 RIDERS• 30 GAUGE PVC• FULLY COVERED 840/420 D NYLON• 6 HANDLES W/ EVA KNUCKLE...

P. 54

FLIPSIDE WITH O'BRIEN'S PATENT PENDING SIDE WHIP ACCELERATER BASE THE FLIPSIDE WILL SEND YOU ON LIGHTSPEED WHIPS. Ut FLIPSIDE 1 •...

P. 55

FLIPSIDE 3 SIDE WHIP ACCELERATOR BASE! • 74 x86 • UP TO 3 RIDERS • SIDE WHIP ACCELERATOR BASE • 28 GAUGE PVC •...

P. 56

BARF BAL /is t/je closest you'll get to riding in a washing machine BARF BALL • 78" DIAMETER • 1 RIDER • HEAVY DUTY...
Text version
All O'Brien catalogues and brochures
2013 O'Brien Catalog

100 Pages