Booth:
Nautical Structures

MC800 -
2 Pages
MC-800-EX-81-104 ELECTRIC DAVIT SYSTEM
MINI-CRANE DAVIT SYSTEM WITH MANUAL BOOM EXTENSION
Nautical Structures' Mini-Crane Davit System represents the most recent advances in small davit
technology. The Mini-Crane's sleek low-profile styling and strong lines coupled with the pull-out
boom extension allow this davit to stow in tight spaces while still offering the utility of a larger
davit. The Mini-Crane Davit System is capable of lifting 800 pounds, sufficient for small hardbottomed inflatable boats and most personal watercraft. The davit is designed to be used with the
pull-out boom fully extended. Nautical Structures' unique PBAS (Pneumatic Boom Assistance
System) feature counter-balances the weight of the boom for virtual effortless deployment. The
davit is fit with an electric brake winch, and operated by a remote controller on a twelve-foot wanderlead, removable for security. Wireless remote control is available as an optional feature. The
Mini-Crane Davit System rotates by hand on Delrin bearings. Hydraulic power rotation may be
selected as an optional feature to enhance the davit's operating convenience. A through-deck
standpipe is the typical mounting structure for the Mini-Crane Davit, although a pedestal base
mount may also be used in some applications. The Mini-Crane Davit System is finished to our
highest standards with a two-part AwlGRIP urethane spray applied paint finish in a color of white
to match your vessel.
10351 72nd Street North • Largo, Florida 33777 • Phone: (727) 541-6664 Facsimile: (727) 541-6353
North America Toll Free: (888) 541-6664 Email: sales@nautical-structures.com www.nautical-structures.com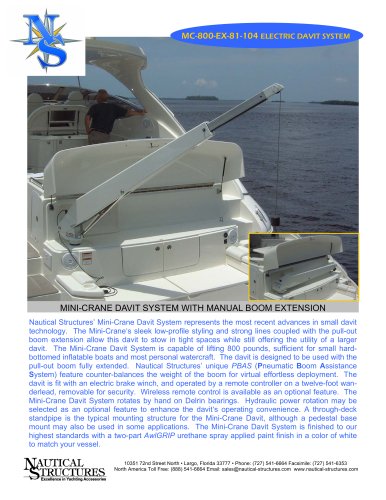 P. 2

MC-800-EX-81-104 ELECTRIC DAVIT SYSTEMThe winch motor and fiberglass covermay be reversed to protrude from theopposite side of the davit's boom fromwhat...
Text version
All Nautical Structures catalogues and brochures
Archived catalogues