Booth:
Nacra Europe
Nacra prindle 15 16 18 -
40 Pages
between it and the deck. Tighten all bolts
down being careful not to overtighten the
outside bolts on the rear crossbar. Leverage
provided by a 6" long wrench is sufficient for
proper tightening.
Insert rubber plugs into holes in hulls.
TRAMPOLINE
hole in the deck. Put some silicone sealant
on your forefinger and reach through the
hatch to put the sealant on the bolt where it
enters the hull. Attach lock nut and flat
washer to bolt inside hull using 1/2" box-end
wrench. If you cannot reach the bolt, tape
the nut to the wrench. Thread nut snugly to
hull. Do not tighten until all bolts are snug.
To attach inside
bolts on the rear
crossbar, insert one
of the 5/16" flat
head screws
through the inboard
hole of the rear
crossbar and bolt
hole in deck pocket.
Put a flat washer
and lock nut onto
the bolt. You may
find that taping the
nut washer onto a
wrench is easiest.
Tighten loosely using a screwdriver on top of
screw.
To attach outside bolts on both crossbars,
insert 5/16" hex head bolt with washer
through crossbar
and deck. Insert
through 6" stainless
steel bar which fits
under the deck.
Hand tighten.
Repeat procedure on
all outside bolts.
Before tightening
down these 8 bolts,
make sure the front
crossbar sits in the
groove without voids
From the port hull, insert forward and rear
edges of trampoline in curfs on crossbars.
The rear edge has two rows of grommets.
Feed trampoline across boat by alternately
pulling each edge.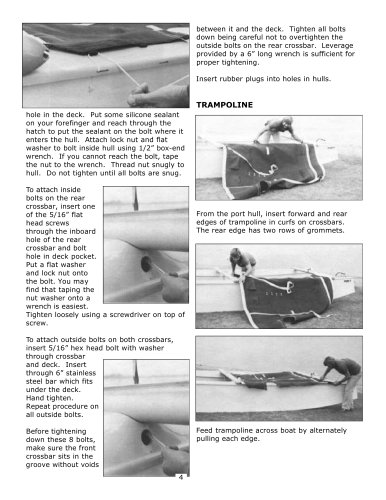 P. 2

INTRODUCTION This owner's manual is provided to ease assem- bly, maintenance and use of your Prindle Catamaran. We believe these instructions...

P. 3

Prindle Catamaran Owner's Manual Section I: ASSEMBLY Preparation Tools needed: large screwdriver pliers needle-nose pliers 1/2"...

P. 5

Tie a figure eight knot in the end of side lac- ing line (1/8" X 11') and begin lacing side of trampoline beginning at forward slot. Lace line...

P. 6

Tie the block onto the side trampoline tab using a square knot. Use tab just forward of hatch for single trapeze and tabs just for- ward and aft...

P. 7

Attach jib blocks to thim- ble at end of jib bridle wire (not shackle) using 3/16" shackle. Be sure the jaws of cleat face inboard. Thread...

P. 8

Tiller Extension Remove lock- nut from end of tiller exten- sion. Attach extension to tiller crossbar and reattach locknut....

P. 9

Rudder Alignment Lock both rud- ders down. Measure 22" up the leading edge of rud- ders and mark this measure- ment. Do the same...
Text version
All Nacra Europe catalogues and brochures
Nacra 580 trimsheet

1 Pages
Archived catalogues