Booth:

MITSUBISHI HEAVY INDUSTRIES - Ship & Ocean
Group: Mitsubishi
BOILER : MAC-B -
14 Pages
Boiler Control System
: Automatic Boiler Control
ACC : Automatic Combustion Control Differential Pressure
= Burner draft loss
FWC : Feed Water Control
: Burner Management System
BMS
ABC
Wind box
Steam press. control Control FO flow to reduce the deviation with
Steam press. control
setting pressure by detecting Drum pressure
FO Flow control
FO Flow control
Control FO control valve by detecting FO
pressure at FO header
Air Flow control
Air Flow control
Control F.D.FAN inlet vane by detecting burner
draft loss (between wind box and furnace)
(Burner draft loss)
= (Wind box press.) – (Furnace press.)
FW flow control
FW flow control
Furnace
① Control FW control V/V by detecting drum
water level (1 element type)
② Use Steam Flow as Feed Forward signal
when there are 2 boiler control (2 elements type)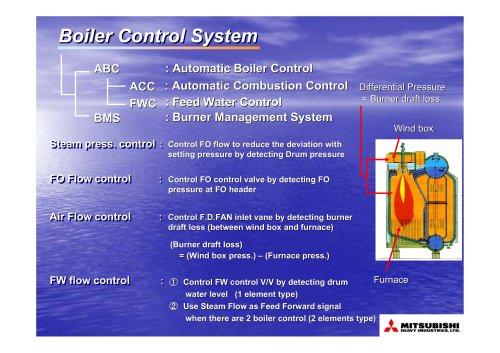 P. 3

Production Record (MAC-B Type Boiler)(MAC-B1259396Boiler10070756310194827063565079 ('07 Plan)5437424024250'92 '94 '96'98 '00'02 '04'06Year

P. 4

JL MITSUBISHI HEAVY INDUSTRIES, LTH

P. 5

Standard SpecificationTypeMACMAC-Max. Evap.Evap.t/hMAC - **BEx) 40t/h boiler → MAC-40B20B 25B 30B 35B 40B 45B 50B 55B 60B 70B 80B 90B 100B 110B2025303540Design/kg/cm2gWorking...

P. 6

StructureF.O.BurnerWind BoxGas SteamOutlet OutletSteam SeparatorCombustion Air InletSteamDrumGenerating TubeSoot BlowerPartition water wallFurnaceCombustion...

P. 7

Advantages of MAC-BMAC-B-Two-drum water-walled typeSteam separator & baffle plate-Long lifetime due to furnace surrounded bywater wall tubes and no...

P. 9

-Boiler ModeBoiler ModeConditionTanker ServiceCOPT operationECO Back upExh. Eco. Back upduring voyageIGS Top UpIGS Topping-upRepose(interlock with soot...

P. 10

Boiler Control PanelCondition MonitorGraphic PanelGraphic PanelGraphic PanelLocal Boiler Control PanelCondition Monitor

P. 11

After-sales Service Network in the WorldAfter-salesU.K.MoscowHamburgMadridSeattleFort Worth (Texas)Los Angeles Hartford (Connecticut)BusanDenmarkBeijingTaipeiBostonTokyo,...

P. 12

GO Firing for SOx Emission Control (1/3)- SOx Emission Control in EUSulfur contentof fuel oil1.5AreaOperationBaltic Sea2006.5North Sea4.5All Ports in EU2007.11BALTIC...

P. 13

GO Firing for SOx Emission Control (2/3)- Indispensable Item for applying GAS OILItem1) Additional fuel oil pumpfor Gas OilRemarksGas Oil Viscosity・>...
Text version
All MITSUBISHI HEAVY INDUSTRIES - Ship & Ocean catalogues and brochures
Archived catalogues
Auxiliary Boiler MAC-B

14 Pages

Steam Turbine Generator

55 Pages