Booth:

MITSUBISHI HEAVY INDUSTRIES - Ship & Ocean
Group: Mitsubishi
BOILER : MAC-B -
14 Pages
After-sales Service Network in the World
After-sales
U.K.
Moscow
Hamburg
Madrid
Seattle
Fort Worth (Texas)
Los Angeles Hartford (Connecticut)
Busan
Denmark
Beijing
Taipei
Boston
Tokyo, Japan
Hong Kong
Ho Chi Minh
Yokohama, Japan
Paris
Munich
Istanbul New Delhi
Dubai
Kobe, Japan
Bahrain
Portugal
Nagasaki, Japan
Jakarta
Shanghai
KOGYO>
2006 OPEN
New York
Houston
Mexico
Sao Paulo (CBC)
Rio de Janeiro
MHI Marine Engineering, Ltd.
(TOKYO)
+81-3-3798-5941
+81- 3798Mitsubishi Heavy Industries, Ltd.
Nagasaki Shipyard & Machinery Works
Singapore
PYE>
Office
Technical Agent
TOYO DENGYO, AMCO Engineering
TAKNAS, TK MACHINERY
HARRIS PYE, SHINSEI KOGYO, TOEI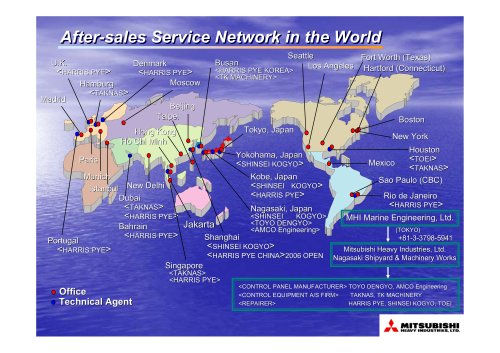 P. 6

StructureF.O.BurnerWind BoxGas SteamOutlet OutletSteam SeparatorCombustion Air InletSteamDrumGenerating TubeSoot BlowerPartition water wallFurnaceCombustion...

P. 7

Advantages of MAC-BMAC-B-Two-drum water-walled typeSteam separator & baffle plate-Long lifetime due to furnace surrounded bywater wall tubes and no...

P. 8

Boiler Control System: Automatic Boiler ControlACC : Automatic Combustion Control Differential Pressure= Burner draft lossFWC : Feed Water Control: Burner...

P. 9

-Boiler ModeBoiler ModeConditionTanker ServiceCOPT operationECO Back upExh. Eco. Back upduring voyageIGS Top UpIGS Topping-upRepose(interlock with soot...

P. 10

Boiler Control PanelCondition MonitorGraphic PanelGraphic PanelGraphic PanelLocal Boiler Control PanelCondition Monitor

P. 12

GO Firing for SOx Emission Control (1/3)- SOx Emission Control in EUSulfur contentof fuel oil1.5AreaOperationBaltic Sea2006.5North Sea4.5All Ports in EU2007.11BALTIC...

P. 13

GO Firing for SOx Emission Control (2/3)- Indispensable Item for applying GAS OILItem1) Additional fuel oil pumpfor Gas OilRemarksGas Oil Viscosity・>...

P. 14

GO Firing for SOx Emission Control (3/3)- Recommendation Item for applying GAS OILItem1) GO modeRemarksAdditional operation mode for GO firingCombustion...
Text version
All MITSUBISHI HEAVY INDUSTRIES - Ship & Ocean catalogues and brochures
Archived catalogues
Auxiliary Boiler MAC-B

14 Pages

Steam Turbine Generator

55 Pages