IS 2.6 - IS 2.7 -
2 Pages
IS 2.6 - IS 2.7
mas
ma s e
GENERA
TORS
2 kW 50 Hz
2.2 kW 60 Hz
THE INTERCOOLER W/A
Assures the perfect functioning of the generator independently
of the external ambient temperature, therefore the alternator
and the engine will work at ideal temperature optimizing the
performance and reliability of the gen-set.
Control Panel
The gen-set control panel has short dimensions (86x124mm,
3.4x4.9in.). It is supplied with 10mt wire shielded. Designed with
the most modern technology, it is supplied inside with a microchip.
The keyboard is made by polyester shockproof with grade of
protection IP54 and includes:
• Hour-meter.
• Start-stop button.
• Alarm lamps and low oil pressure.
• Engine and alternator high temperature alarm lamps
Engine
• Easy access in case of maintenance to the feeding system and
lubrication, of the sea/water pump and the air filter.
• Safety stop in case of low oil pressure.
• Safety stop in case high water/exhaust gas temperature.
• Double vibration dumping system.
• Oil filter.
• Oil drain pump.
Alternator
• Synchronous, 2 poles, self-regulated, brush less self-excited.
• Rotor and stator epoxy resin coated against external agents.
• Insulation class H.
• High temperature coilings protection.
Engine
Brand
Model
Type
Cylinders (nr.)
Cylinder block material
Bore (mm. - in.)
Stroke (mm.- in.)
Displacement (cc. - CID)
Power (hp)
RPM
Injection system
Engine head material
Speed governor
Lubrication system
Engine stop system
Fuel pump
50 Hz
L48
LV48
Diesel 4 stroke
1
Cast iron
70
55
211
4,2
4,7
3000
3600
20,5:1
Cast iron
Centrifugal mechanical
Forced
Stop solenoid
Electric
70 - 2,3
Fuel pump discharge (cm. - ft)
Fuel consumption (l/h-gl/h )
Air intake (l/min. - gl/min.)
Starting battery (Ah-V)
Starter (kW-V)
Max. inclination
Water pump flow (l/min. gl/min.)
Alternator
Type
Cooling
Voltage (V)
Frequency (Hz)
Amps
Max. power (kW)
Continuous power (kW)
Battery charger output (A-V)
Power factor ( cos ø )
Insulating class
Voltage stability
Frequency stability
60Hz
Yanmar
0,7
280 - 9,9
0,8
340 - 12
45 - 12
0,8 - 12
30°
20 - 4.4
Synchronous, 2-poles
self excited
Air/water ( Intercooler W/A )
115 - 230
120 - 240
50
60
17,4 - 8,7
18,3 - 9,16
2,0
2,2
1,7
1,9
10-12
1
H
±10%
±5%
Cooling system
Soundproof cabin
A new project engineering design with a structure of a draw piece of
aluminum supporting, painted aluminum panels of high resistance
to external agents.
Of limited weight and easy accessibility to the inner cabin in case
of maintenance services.
The cooling system of the engine is based on a heat exchanger
( sea water / air ) with the main function of reducing the temperature
of the air flow inside the box. The system provides an efficacious
cooling of the alternator and the optimal temperature for the best
performance and reliability of the gensets; despite its on board
allocation and room temperature.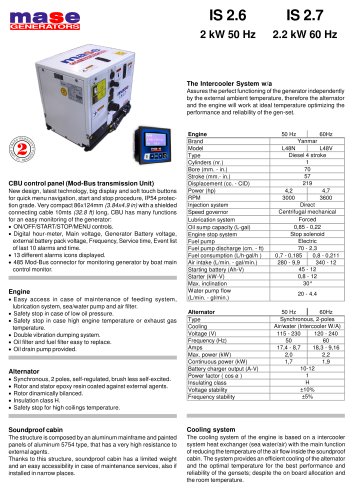 Text version
All Mase Generators catalogues and brochures
Archived catalogues