Booth
Liebherr-International Deutschland

Catalogues

News

Exhibitions
Liebherr Reachstacker -
8 Pages
Reachstacker_A4.fh9 20.05.2005 8:41 Uhr Seite 1
C
Container Handling
Competence – LRS, LHM,
STS, RTG, RMG, ...
Boxes are our daily business! With hundreds of harbour mobile cranes, ship-toshore cranes, rubber-tyre and rail-mounted
gantries as well as special crane solutions
on the market, Liebherr has gained an
invaluable amount of experience in the
maritime field – definitely the most chal-
M
Y
CM
MY
CY CMY
K
Liebherr
Reachstackers.
The latest design in
reachstackers – totally
manufactured by Liebherr.
1
2
Comfort
lenging and demanding environment for
the container industry. Such experience
pays off in the handling of each and every
box and obviously contributes to Liebherr's
ambition to present itself as the outstanding sole supplier for container handling
competence!
Operating a Liebherr reachstacker (LRS) isn't just
work – it is enjoyment. Amongst other features,
comfort is assured by a highly effective shock
absorbing system which has been incorporated
to achieve optimum vibrations damping.
Performance
Printed in Germany by BVD BK-RP LWN 10223756-05.05-2gb Subject to change without notice.
Where no reachstacker has reached
before… A uniquely
curve-shaped telescopic boom offers
unrivalled reach plus extra space for
stacking and provides its customers
with handling opportunities so far not
to be found within the reachstacker
market!
Liebherr-Werk Nenzing GmbH
P.O. Box 10, A-6710 Nenzing/Austria
Tel.: +43 5525 606-725, Fax: +43 5525 606-447
www.liebherr.com, E-Mail: reachstacker@liebherr.com
Probedruck
4
3
Reliability
Proven Liebherr components have been taken
over from such successful product lines as
the harbour mobile crane series and the STS
crane range which are key ingredients for the
reliability of Liebherr reachstackers.
Economy
Highly responsive, smooth and sensitive driving – that's what
the reachstacker driver experiences due to the implementation
of a fully hydrostatic transmission. Not forgetting optimised
fuel consumption, reduced noise emissions as well as an
extended lifetime of power-pack components.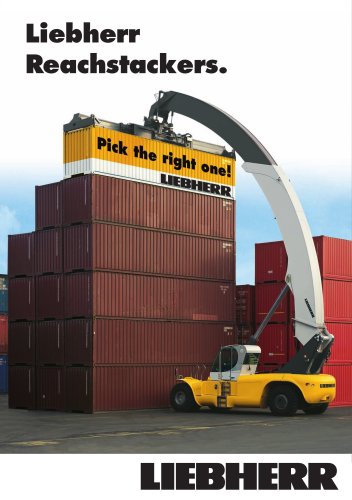 Text version
All Liebherr-International Deutschland catalogues and brochures
Archived catalogues