Booth

Lewmar
Group: Lewmar
Lewmar-English -
212 Pages
Mm E 1A7 MAR
Anchor | Hatch & Portlight | NAVTEC® Rigging | Sail Control | Steering | Thruster | Winch | Windlass
Marine Equipment Guide
Edition 12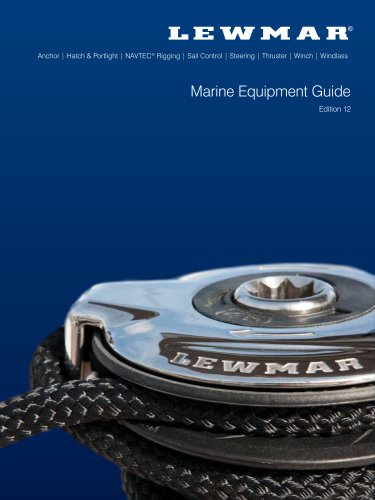 P. 2

2w w w. l e w m a r. c o m

P. 3

Anchoring & Docking Thrusters Hatches & Portlights Welcome to the Lewmar Marine Equipment Guide. Lewmar has been designing and manufacturing...

P. 4

In Design In Design The Lewmar Design Team is constantly innovating and developing new products, as well as supporting existing lines. Customer feedback...

P. 5

REVO™ Backwinding Winch Lewmar introduces a complete range of electrically-operated, backwinding winches. With the touch of a button, sailors...

P. 6

In Design Navtec TFC™ Rigging Navtec Thermo Fused Carbon Rigging is the latest innovation in carbon fibre rigging. Fabricated from an advanced,...
Text version
All Lewmar catalogues and brochures
Archived catalogues
Marine Equipment Guide 2010

212 Pages