Booth:

Hobie Cat USA
Group: Hobie

hobie-sailing-parts-accessories-fall-2011 1 -
68 Pages
TIE DOWN STRAPS
This outstanding four strap system features patented over
center cam action locking buckles coupled with super-strong
2000 lb. test web straps and hooks. The tie downs secure
your boat to any trailer in seconds. Full 1 year warranty on all
parts. Custom Tie Downs come complete with all mounting
hardware and instructions.
1791 Wave Tie Downs
1793 H14/16
1794 H17/18
TECH TIP!
Mast stepping  Usually a two person job. For those days you need help, want
to single hand or be able to rig the boat alone for any reason, a mast stepping
aid is what you need. The primary function of a mast stepping aid is to raise the
mast while restraining side movement induced by a cross wind. Often it is more
difficult to handle the side motion than it is to raise the mast. It's the side motion
that breaks or bends the hinges and/or mast base castings.
HOBIE MAST STEPPER
This system has a gin pole that rests
on a foot attached to the trailer. The
mast is stabilized by tying a trap
wire on each side to the front cross
bar. Attach the trailer's winch (not
provided) to the forestay and hoist
away. Utilizes bridles to stabilize the
gin pole while hoisting the mast.
3152  Mast Stepper
"ACROSS THE HULLS"
TIE DOWNS
SHOCKCORD
BALL TIES
Lashing the wires to your mast for
trailering is quick and easy with this handy
tie-down. Use a couple to keep your jib
furled on the beach and your sails rolled
in the bag. Dozens of other uses.
370  Each
One piece tie downs with hooks (and
retainers) at each end and paddle handle
buckle for easy adjustment. Each tie
down is 2" wide by 13' long.
1795  Each
WAVE
Includes fiberglass support and
shockcords necessary to secure mast
to the boat while trailering. Quick and
easy to use. (Use of forward holder on
Wave SE tramp requires modification,
addition of one grommet in forward
edge of trampoline).
38650031 Aft only
38650041 Set fits mast in 2 sections
as shown above
Easy to install because it eliminates
the trailer mounted gin pole.
However, the Mast Stepper II
system does require that the trailer's
forward mast support be 30" taller
than the mast step. The mast is
stabilized by tying a trap wire on
each side to the front cross bar.
The kit includes all necessary lines,
shackles, blocks and instructions.
Purchase winch separately.
3155  Mast Stepper II
TRAILER ACCESSORIES
MAST STEPPERS
WAVE MAST TIE
DOWN KIT
MAST STEPPER II
HOBIE MAST
STEPPER iii
HOBIE MAST CRADLE
Fiber glass mast cradle for the Hobie
14, 16, 17 20 & 21SC. Molded to the
shape of the rear cross bar and carpeted
to protect the mast and cross bar.
Includes a simple single shock cord tie
down the secures the cradle to the cross
bar and the mast to the cradle.
3175
Mast Cradle for Hobie Wave, 14, 16,
17, 20 & 21SC
Speciffically designed for the Hobie
Getaway due to the rotated mast
position when stepping. Step your
mast with ease and safety. Specially
designed bracket attaches to mast at
base. A pole plugs into the bracket
to create a gin pole arrangement
that allows you to singlehandedly
raise and lower your mast. It uses
the trailer's winch (not provided)
for power. Lines snap in place
to eliminate side-to-side sway.
Attaches quickly without tools. No
modifications to boat. Can adjust to
fit other rotated-position stepping
masts. May also be modified to
work on Hobie 17, Tiger and 20 (no
instructions are provided for this
modification).
3156  HOBIE MAST STEPPER III
3153 Winch-Hand Crank (900 lb. capacity) Winch has a capacity of 40' of
3/16" cable or line - 30' of 3/32". No line included
hobiecat.com / hobiecat.com.au
31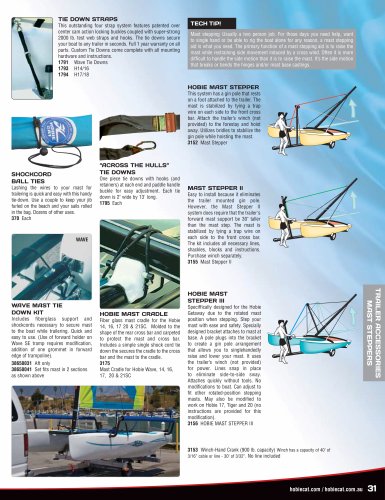 P. 28

BOW SHACKLE - THREADED PIN Part # Pin Dia. Width Length Max Ld# SP150061 1/4" 9/16" 15/16" 4400 SP150081 5/16" 11/16" 1 1/4" ...

P. 29

CONVENIENCE PARTSSPARE PARTS - ALL PACKAGED IN 12" ZIPPERED POUCHESKEEPER PINSGreat little helpers for quick rudder removal. Forget theaggravation of straightening...

P. 30

ONE WRAP VELCRO® Cut this double faced Velcro® product to length and wrap it around items, line or whatever you need to secure....

P. 31

POLARIZED WORLD'S BEST POLARIZED SUNGLASS The Motion Series was designed for demanding sports enthusiasts who are unwitting to compromise...

P. 32

HOBIE-TRAILEX ALUMINUM TrailersTRAILERSAnodized aluminum trailers by Trailex, custom designedfor Hobie. The best trailers for light weight and long, lowmaintenance,...

P. 34

NOTE: ADDITIONAL FREIGHT CHARGE ITEMSCarts and Trax items shown on this page incur additional freight charges.H16 DollyDOLLYCAT TRAXCAT TRAXThe dolly includes...

P. 35

DELUXE HOBIE SAIL BAGStop fighting with your sail and boom cover. Thissail and boom bag zips full length for ease andconvenience and will fit any...

P. 36

HOBIE LUGGAGEWe now offer a selection of quality Hobie luggage. These three piecesrepresent the most popular luggage items. A back pack, rolling duffle...

P. 37

o I. SEE BAG Transparent 13 oz. vinyl bags make quick work of locating things. Great for organizing gear and personal stuff. Keep your food...

P. 38

THUNDERWEAR COLD WEATHERSAILING GLOVESRONSTAN THREE Finger GLOVESAvailable in extra-small, small, medium, large & extralarge. (xx = size)RF4850xx Short...
Text version
All Hobie Cat USA catalogues and brochures
Archived catalogues