Bridge cranes -
12 Pages
End carriages
Designed for a high
reliability and robustness
END CARRIAGE
WITH BOGIES
DOUBLE GIRDER
END CARRIAGE
SINGLE GIRDER
END CARRIAGE
Wheel heads
Gff
Travelling gearedmotors.
Wheels.
All these elements have been
developed with the experience ac-
quired by us, over the many years
we have been manufacturing and
has been proved by our success. The
utilisation of modern machinery, the
implementation of state-of-the-art
productive methods and our precise
quality control system, guarantees
that all components are produced
with the highest levels of safety and
reliability.
5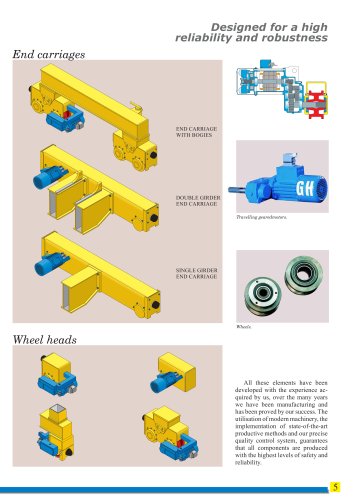 P. 1

EOT Cranes Gantry Cranes Components for Cranes BRIDGE CRANES

P. 2

overed and owned facilities GH began their activities in 1956 and are dedicated to the manufactu- re of components for maintenance, lifting...

P. 3

Modem facilities for high-quality fabrication Crane Components Single and Double Girder EOT Cranes Gantry and Special Crane...

P. 4

rane Components The construction of all the me- chanisms and hoists of GH, is based on the calculation rules for lifting equipment from the...

P. 6

ingle and double girder EOT Our bridge cranes are an indis- pensable tool in those areas of work which require the movement of heavy materials. At...

P. 7

Safety and versatility for improved price/presentation The Standardization of our me- chanisms, through our simple and modular construction,...

P. 8

Prefabricated concrete. Steel stockholding. Public works. Quarries. Also included the GH manufac- turing program, in addition to our standard...

P. 9

S pedal Cranes ■ Perfect solutions adapted to the measure of your problems Automotive. Steel production. Refuse treatment. The...

P. 10

articular Solutions Product optimisation to the service of you profitability GH has a special consultancy team, which studies the particular needs...
Text version
Archived catalogues
Hoists

8 Pages

Crane components

8 Pages