Bridge cranes -
12 Pages
Modem facilities for
high-quality fabrication
Crane
Components
Single and
Double Girder
EOT Cranes
Gantry
and Special
Cranes
Particular
Solutions
Technical
Assistance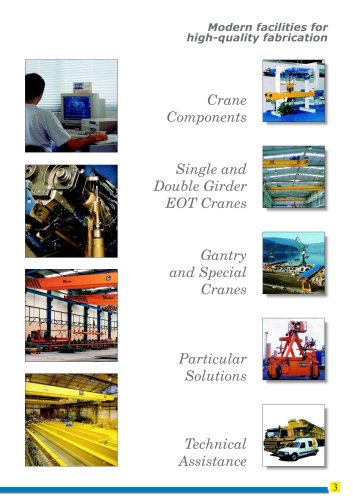 P. 1

EOT Cranes Gantry Cranes Components for Cranes BRIDGE CRANES

P. 2

overed and owned facilities GH began their activities in 1956 and are dedicated to the manufactu- re of components for maintenance, lifting...

P. 4

rane Components The construction of all the me- chanisms and hoists of GH, is based on the calculation rules for lifting equipment from the...

P. 5

End carriages Designed for a high reliability and robustness END CARRIAGE WITH BOGIES DOUBLE GIRDER END CARRIAGE SINGLE GIRDER END...

P. 6

ingle and double girder EOT Our bridge cranes are an indis- pensable tool in those areas of work which require the movement of heavy materials. At...

P. 7

Safety and versatility for improved price/presentation The Standardization of our me- chanisms, through our simple and modular construction,...

P. 8

Prefabricated concrete. Steel stockholding. Public works. Quarries. Also included the GH manufac- turing program, in addition to our standard...
Text version
Archived catalogues
Hoists

8 Pages

Crane components

8 Pages