Bridge cranes -
12 Pages
overed and owned facilities
GH began their activities in 1956
and are dedicated to the manufactu-
re of components for maintenance,
lifting and storage. Since then they
have installed their products in over
37 countries, with more than 60,000
manufactured units, offering solu-
tions in practically all sectors.
Achieving this GH applies the
most modern design technologies
and the most sophisticated produc-
tion methods. Developing our acti-
vity in more than 30.000 ml cove-
red area, distributed in our four
factories of Beasain, Olaberria,
Bakaikoa and Alsasua.
The wide range of cranes that
GH can offer to you, have been de-
signed taking into account the prin-
ciples of reliability, safety, durabi-
lity, price and a minimal maintenan-
ce. Our prime objective is to achieve
and maintain the complete satisfac-
tion of our clients.
The experience gained over
these years, the recognition of our
customers and the high quality of
our products, has established GH as
one of the principal European manu-
facturers in the lifting industry.
The growing demands and requi-
rements of the market, has meant
that we have acquired a character of
continuous improvement. This has
allowed us to maintain the confiden-
ce and satisfaction of our clients,
and motivates all of us at GH, to
constantly seek the development
and improvement in our own orga-
nisation.
Heavy and
light fabrication
facility.
(Bacaicoa)
Machining
facility.
(Alsasua)
Central headquarters, R&D
and equipment assembly.
(Beasain)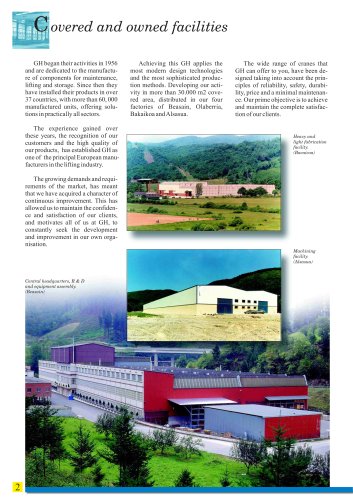 P. 1

EOT Cranes Gantry Cranes Components for Cranes BRIDGE CRANES

P. 3

Modem facilities for high-quality fabrication Crane Components Single and Double Girder EOT Cranes Gantry and Special Crane...

P. 4

rane Components The construction of all the me- chanisms and hoists of GH, is based on the calculation rules for lifting equipment from the...

P. 5

End carriages Designed for a high reliability and robustness END CARRIAGE WITH BOGIES DOUBLE GIRDER END CARRIAGE SINGLE GIRDER END...

P. 6

ingle and double girder EOT Our bridge cranes are an indis- pensable tool in those areas of work which require the movement of heavy materials. At...

P. 7

Safety and versatility for improved price/presentation The Standardization of our me- chanisms, through our simple and modular construction,...
Text version
Archived catalogues
Hoists

8 Pages

Crane components

8 Pages