Booth
Fiamm Spa
Standby Batteries Enerlite SP range -
2 Pages
FIANM
EWERÍME
SP
RANGE
The SP range is derived from long experience
of standby markets and general applications.
The SP range has been specifically designed
to ensure optimal discharge performance and
highest reliability in many different
environments.
FIAMM has a program of continuous
improvement investing in manufacturing
processes, equipment and technology.
The highest level of quality and respect for the
environment is assured by FIAMM's adherence
to ISO 9001 quality and ISO 14001
environmental systems. Our continuous
investment in battery technology is reflected by
means of premium products that are of the
highest quality and reliability.
SP valve regulated lead acid batteries are the
ideal energy source for many different standby
applications.
TECHNICAL FEATURES
► Plates and Grids: thick plates with
grids cast to ensure long and reliable life
► Separator: microporous glass mat
Containers and Lids: ABS plastic
► Safety Valves: Low pressure safety
release valves
Terminals: threaded female M6/M8
post terminals
+
PRODUCT FEATURES
► Safety
► Use in any position
► Reliability
► Maintenance free
► Long cycle life
► 10 years design life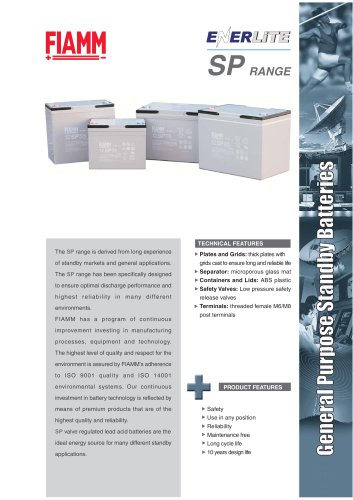 P. 2

SP RANGE201303.07TECHNICAL SPECIFICATIONSNOMINAL VOLTAGE: 12 VFLOAT CHARGE AT 25°C: 13.50 - 13.80 V for a 12V blocFIAMM SP range(V)NOMINALCAPACITY...
Text version
All Fiamm Spa catalogues and brochures
Archived catalogues