falcon-leaflet-450 -
1 Pages
falcon
TABLES
Falcon 450
Meet the Falcon 450 Mk II - the easiest rigid inflatable boat to own. Its
fast, dry and very capable even in serious waters.lt is light, spacious,
extremely easy to launch, and built to last even in harsh climatic condi-
tions.
Standard featuresinclude a bow locker, self-draining non-slip deck and
a double protective rubstrake.
Options include optional deck hatches and a variety of console & seat-
ing options. Superlight modern composite version available.
Specifications
Dimensions
Capacities
Tube
www.falconinflatables.com
Falcon Inflatables (Pty) Ltd., Swellendam, Western Cape, South Africa.
Tel (028) 5142010 Email info@falconinflatables.com
"Falcon Inflatables" is a registered trademark.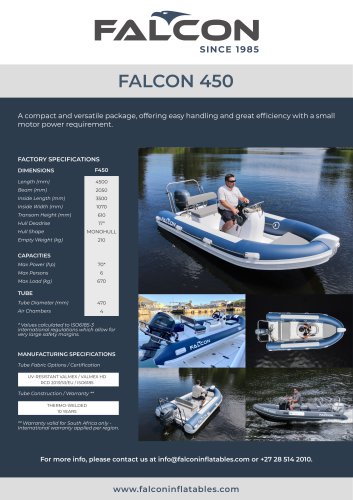 Text version
All Falcon Inflatables catalogues and brochures