Doyle -
1 Pages
DOYLE
ANOMALY
The Best Way to Raise and Lower
a Square Top Mainsail
It will change the way you sail!
Using the Doyle Anomaly Headboard square
top mainsails can now be hoisted without the
need to manually attach the headboard to the
carriage or re-install the gaff batten each time
the sail is hoisted.
Hoisting the halyard pulls the headboard onto
the carriage where a toggle locks the headboard
into the carriage.
When the sail is lowered the headboard slides
off the carriage with slack in the halyard
allowing the sail to be flaked on the boom.
Advantages
Square top mainsails can now be raised and lowered without the crew climbing
the mast
Gaff battens no longer need to be installed and uninstalled before raising and
lowering the main
Doyle Anomaly Headboard and Carriage adapts to most existing slider systems
on the market
System works with both single part and 2:1 halyard systems
Visit us at doylesails.com/anomaly for additional information.
Doyle Sailmakers info@doylesails.com www.doylesails.com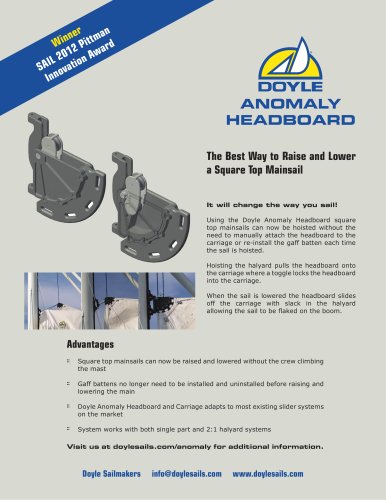 Text version
All Doyle catalogues and brochures