Booth:
BROMMA
Yard Crane Spreaders -
16 Pages
8
YTR40 / YTR45
Twistlock motion achieved by a doubleacting
hydraulic cylinder placed inside the end beam.
The Bromma YTR40 /YTR45 heavy duty yard crane
spreaders calculated for 2 million cycles. Well proven
design, structually based on the Bromma ship-to shore
spreaders. Designed for twinlift capability to handle two
20´containers at the same time. Telescoping, twin boxes
up/down and twistlocks are hydraulically operated.
Technical data
The twinlift unit mounted at the center of the main
frame consists of four individual housings using the
same twistlock design as in single lift. Each twistlock
housing is raised and lowered with a separate cylinder, but work simultaneously. (All twinlift units up or
down). The twin lift system is designed to allow
irregularities between two 20' containers.
Available with several automatic flipper combinations.
Twinlift of two 20' containers
•
•
•
•
•
•
High lifting capacity
Robust and well proven design
Twinlift
For demanding applications
Long economic life
Bolted side guides
YTR40
Lifting Capacity
One container
Lifting Lugs Capacity
Hoisting Speed
YTR45
51 tonnes
51 tonnes
± 10% eccentric loading
2 x 32.5 tonnes
2 x 32.5 tonnes
evenly loaded
evenly loaded
4 x 10 tonne
Max 1 m/s
Tare Weight
9,100Kg
10,600 Kg
Design Criteria
DIN 15018 H2B4
Twistlock motion 90o
less than 1,0 second.
Telescoping
20' to 40' position
~ 28 s
20' to 45' position
~ 30 s
Twinlift unit up/down
~8 s
Hydraulics
System pressure
100 bar.
Maximum flow
50 l/min
56 l/min
Shock valve setting telescoping
70 bar
Power Supply
400/230 V AC 50 Hz
or otherwise as agreed.
Control Voltage
24 VDC / 230 VAC/ 110 VAC
Electrical Cabinet
Stainless steel IP 55
Maximum Power Consumption
5.5 kW
7.5 kW
This specification is subject to alterations without prior notice.
ISO 9001 quality
Bromma Conquip AB spreaders are manufactured
under strict quality control procedures and Bromma
Conquip AB being awarded ISO9001 certification.
This is your best guarantee of receiving a quality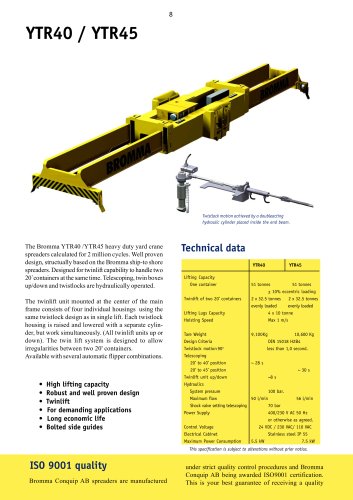 P. 3

3The recently redesigned and newly optimized BrommaMarathon™ twin-lift spreaders include the YTS45separating twin-lift and the YTR40 regular twin-lift.The...

P. 4

4of Bromma Marathon™ spreaders to run longer makes them ideal for automated container handlingenvironments. Further, by lengthening serviceintervals,...

P. 5

5Key featuresBy long experience of spreader design over the years the Bromma engineers have developed a number ofsmart and reliable design solutions for...

P. 6

6YSX40E / YSX45E All ElectricTwistlock motion achieved by an electricmotor placed inside the end beam.The BROMMA YSX40E /YSX45E are all electric midrange...

P. 7

7YSX40 / YSX45Twistlock motion achieved by a doubleactinghydraulic cylinder placed inside the end beam.The Bromma YSX40 /YSX45 are heavy duty yardcrane...

P. 9

9YTS45Twistlock motion achieved by a doubleactinghydraulic cylinder placed inside the end beam.The Bromma YTS45 Heavy duty separating twin yardcrane spreader...

P. 10

10YSC40 Combi SpreaderTheYSC40 grapple arm spreader has fully retractablegrapple arms for block stacking operations. Thespreader is capable of top-lifting...

P. 11

11AccessoriesElectric FlippersThe yard spreader line can be delivered with automaticflipper arms specially designed for yard crane operation. The flippers...

P. 12

12AccessoriesAll Electric Side ShiftThis module is intended to be an integrated part ofthe all electric spreader YSX40E. It makes possiblefor the crane...

P. 13

13LED Indicator lampsHISThe LED indicator lamps indicate that the spreaderhas landed on a container, that the twistlocks are openand that the twistlocks...
Text version
All BROMMA catalogues and brochures
Archived catalogues
SHIP-TO-SHORE SPREADERS

13 Pages

MARATHON™ YARD CRANE SPREADERS

13 Pages

Mobile equipment spreaders

8 Pages